To compete in a global market, Ohio must develop new technologies to continually spawn innovative products that require minimal cost to manufacture and sustain. Wright State's new Center of Excellence in Product Reliability and Optimization (CEPRO) will perform cutting-edge interdisciplinary research in computational modeling, simulation, and the optimization of complex structures, advanced manufacturing processes, and high-tech products. It will deliver vital economic development technologies to industries that no longer possess the expertise for their own transformative research.
Ramana Grandhi, distinguished professor of mechanical and materials engineering, is CEPRO's director. Working with industries for more than 20 years to improve design processes, Grandhi has a client list that ranges from General Electric to Ford Motor Company. Using computer-based research to model physics, Grandhi and his team of researchers are able to simulate a product before it's actually made, saving companies millions of dollars. "They don't have to do expensive testing first by making a prototype to see where it breaks to determine the life of it," said Grandhi.
Grandhi has worked with the Air Force for 25 years in air vehicles, propulsion, and materials, helping them develop new methodologies, techniques, and designs for creating aircraft components such as wings, fuselages, and tails. For the Air Force's F-22 Raptor, Grandhi and his team have been looking at how laser peening could prevent the fighter's wing lug from failing. Connecting the wings to the fuselage, the lugs on the F-22 have been developing fatigue and deteriorating faster than expected. Rather than redesigning something that's already part of the plane, Grandhi is working with LSP Technologies, Inc., a Columbus, Ohio-based company, to see how they can make the lugs last longer.
LSP Technologies' LaserPeen® process uses a high-intensity laser to create laser shots in the lugs, thereby removing the tension. "This is very expensive technology, but if we can prove that it will work, it could save millions of dollars. Everything could be done on the computer—how many shots to give, how much duration, what is the laser intensity," Grandhi explained.
"Working with Dr. Grandhi, his staff, and students has been a great experience and a win-win for all of us," said David Lahrman, director of business development for LSP Technologies, Inc. "We have supported his graduate students by educating them about our LaserPeen® process and providing information to support their graduate work on modeling the laser shock process. This program is important because it will provide analytical methods to understand the implications of a surface enhancement process on a component and what type of process to apply. The models Dr. Grandhi is developing will, at some point, assist us with more efficiently applying our process to our customers' components."
Learn how graduate student Josh Deaton helps design parts for military planes.
Read Josh Deaton's Profile →
Success with military applications could then be applied to the commercial sector. "We develop the technology and then translate it to industry," said Grandhi. For example, if laser peening proves to be effective with the lugs in the F-22's, it could be used to make prosthetic implants last longer, eliminating the need for additional surgeries.
Wind energy is another project for CEPRO where maintenance of the wind turbine blades is an issue. Grandhi is working with Minster Machine Company in Minster, Ohio, on how laser peening could prevent cracks in the blades.
CEPRO will incorporate Wright State faculty from across three colleges, including the College of Engineering and Computer Science, the Raj Soin College of Business, and the College of Science and Mathematics. "Most of the engineering problems are needing multiple disciplines, including several different types of engineering, business, computer science, and physics," explained Grandhi. "Our research all along has been interdisciplinary."
CEPRO is in a unique situation in that Wright State is located right next door to Wright-Patterson Air Force Base. While the base is CEPRO's biggest customer, the desire to work with Ohio industries is also at the forefront. "We make sure all of the technology has commercial potential," said Grandhi. "We want to make sure it gets into the broader industry."
By helping companies who could not otherwise afford this foundational research and by getting new technological advances out to Ohio manufacturers as quickly as possible, CEPRO is giving Ohio industry a competitive edge and ultimately benefitting the state's economy.
"The Center of Excellence in Product Reliability and Optimization helps Ohio companies in a variety of ways. CEPRO's focus is on applications with strong product and commercialization potential for Ohio in advanced materials, aerospace, energy, and medical applications," said David Swenson, vice president of business initiatives for the Edison Materials Technology Center (EMTEC). EMTEC's primary role is to reduce new technology risk and costs to Ohio's small- and medium-sized companies, which are the engines for Ohio's economic growth.
"CEPRO can provide a flow of new technology that is usable by both existing and emerging markets—those that are high growth and critical to Ohio's economy," said Swenson. "By making CEPRO resources available, this initiative provides opportunities for new job creation and job retention in Ohio. Additionally, it can serve as a resource to attract new companies to Ohio by providing a unique academic/commercial partnership to generate products that are sustainable in today's global business environment."
For David Lahrman and LSP Technologies, "the models developed in CEPRO will serve more than just our company. The center Dr. Grandhi has created will serve several Ohio-based companies, because the research he is conducting reaches far beyond just our industry. The future of technology advances and applications will be understood and evaluated by modeling them before they are placed into a product. This will save cost and time with a higher degree of confidence. For Ohio companies, the center will provide the difference they need to succeed in their industry and, as a result, will mean more business."
---
Center of Excellence in Product Reliability and Optimization (CEPRO) Video
CEPRO Director Ramana Grandhi explains how the center helps the military and private industry save millions of dollars in product development.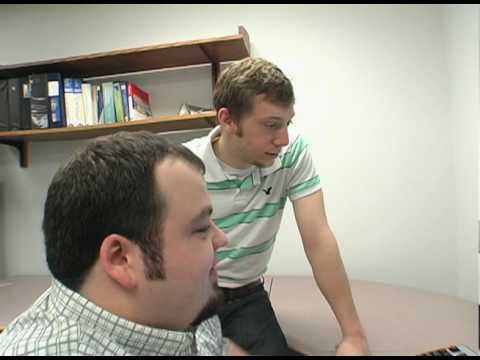 ---