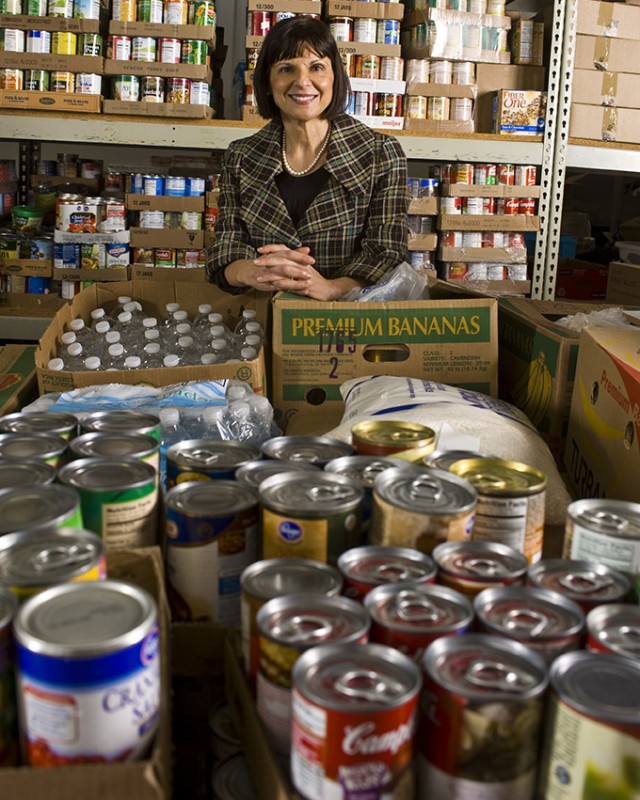 It pulls at her heart. A family walks into a homeless shelter and for the first time must spend the night with strangers under a strange roof, thinking darkly about the future. Their faces are rouged with the look of defeat.
For Leigh Sempeles, a Wright State graduate and former executive director of St. Vincent de Paul, this scene happened all too often.
"The toughest part for me is watching somebody become homeless," Sempeles said. "I mean these people have lost everything and have suffered so many losses."
Sempeles, who turned history and law degrees into a successful career at global information broker LexisNexis, later helped wage a crusade against homelessness and poverty. And she recorded victories.
In the four years Sempeles was with St. Vincent, the Catholic lay organization grew from 80 to 112 employees—"the most caring, hard-working, dedicated people," she says—and increased its annual operating budget from about $6 million to more than $8 million.
St. Vincent de Paul has played an integral part in the community's plan to end chronic homelessness. And perhaps most touching, Sempeles saw once-homeless people get back on their feet and then donate a sizable chunk of their newly earned income to St. Vincent in an effort to give back.
"I just enjoy the mission," says Sempeles. "It is the most gratifying job I've ever had."
Named among distinguished alumni of Wright State's College of Liberal Arts for 2011, Sempeles (B.A. History, '79) graduated from Fairmont East High School in Kettering. She commuted to Wright State, working restaurant jobs at Antonio's and the Cambridge Inn Cafeteria to pay her way through college.
It was at Wright State that Sempeles fell in love with history. Actually, she was already halfway there.
All of Sempeles' grandparents came to Ellis Island from Greece, and she grew up with a love of ancient Greece and Greek history. And Sempeles' mother had a passion for American history. She would take her children on trips to historic sites such as Williamsburg, Mount Vernon, and Monticello.
"To this day, that's what I like to do when I travel," Sempeles says. "When my husband and I planned a trip to Chicago a couple of years ago, he says, 'I'm going to pick the historical site.' Guess where he picked? He took me to Wrigley Field, which is a historical place. I bought that."
At Wright State, Sempeles had set her sights on becoming a history teacher. Then, history professor Carl Becker suggested she go to law school, citing her strong writing skills and analytical thinking.
So after graduating from Wright State magna cum laude, Sempeles attended law school at the University of Dayton. Right after law school, she took a job at Mead
Data Central.
"They were just starting this major project called LexisNexis," she recalled. "I would sit and read cases on second shift all night and determine if it was a bankruptcy case or a tax case or a federal securities case."
After getting her law degree and working for a few years at Hyatt Legal Services, Sempeles found herself back at Mead Data Central, in a marketing position.
Sempeles climbed the corporate ladder, working in both product development and market planning and strategy. She watched Mead Data Central morph into LexisNexis, which grew into a global giant of online legal research services.
"Right here in Dayton, Ohio, they revolutionized the practice of law," Sempeles said.
By 2006, Sempeles was a company vice president. But her heart was beginning to wander.
"I wanted to do something different in my life," she said. "I was looking for a place where I could give back to my community, help my community."
When St. Vincent reached out for someone from the business management world, Sempeles was there.
For the next four years, Sempeles operated out of a small office in The Job Center, a sprawling one-stop employment and training complex. On her desk during an interview were the trappings of a businesswoman on the go—a bottle of sparkling water, a cup of yogurt, eyeglasses propped on a calculator.
"It's been a really good marriage in terms of the skill sets I've been able to bring, especially in these tough economic times," she said.
Last year, St. Vincent's homeless shelters saw a 30 percent increase in homeless men, women, and children.
Besides two homeless shelters, St. Vincent operates The Job Center, two food pantries, a thrift store, and the Deconstruction Depot, which disassembles unoccupied, deteriorating homes and sells old lumber, fireplaces, stained glass, bathtubs, doorknobs, and other items.
But it's not the last chapter in Sempeles' career. In April, she left St. Vincent for an opportunity in New York City, hired as a market planner with Bloomberg Law.
Sempeles made the move to play a role in launching a new system that she says will revolutionize the practice of law by integrating online legal information with company and client information, as well as proprietary news. In addition, it was a chance for Sempeles and her husband to live on the East Coast, which is rich in historical sites.
"My life in the legal information industry has come full circle," Sempeles said, "but I will always treasure the time and experience in the nonprofit world that has had such a profound impact on my life."