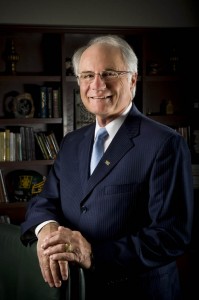 Welcome to this issue of Community magazine.
Changing lives . . . it is the very core of Wright State University's mission.
As you may know from your own personal experience, many students find their chance to shine at Wright State. Here they embrace the opportunities that abound on campus to better their lives through education, networking, and other academic endeavors—enabling them to make a difference in their own lives and the lives they touch.
I have always said that Wright State's alumni are changing lives all over the world. Harry VanderWal is a perfect example. Harry, a graduate of the Boonshoft School of Medicine, and his wife, Echo, have dedicated their lives to providing health care and compassion to the people of Swaziland. You will meet this amazing family in this issue of Community and see how they are changing lives in a country with the highest rate of HIV and AIDS in the world.
With so many remarkable stories of students and alumni who are making a difference, Changing Lives is an appropriate theme for Wright State's new advertising and marketing plan.
Perhaps you have seen the billboards around town, read the newspaper ads, listened to the radio, or watched television spots where our students, faculty, staff, and alumni are featured.
How did Wright State change your life? How are you helping to improve the lives of others?
I encourage you to visit www.wright.edu/changinglives and share your story with us.
While you're online, read the stories, watch the videos of our students and alumni, and see for yourself why changing lives…is so Wright State.
Warmest regards,
David R. Hopkins
President
Wright State University