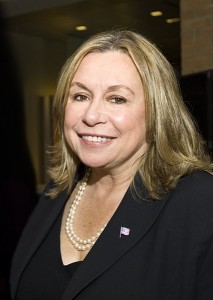 You could see the genuine appreciation on the students' faces as they graciously thanked Doreen Mogavero at an informal after-graduation gathering at Rike Hall in June. Mogavero had just been named an honorary Doctor of Humane Letters at Wright State University's 73rd Commencement. But her friendship with the Raj Soin College of Business, and notably the Finance Club, has been strong for years.
Each year Mogavero takes the time out of her busy schedule to meet with students from Wright State's Finance Club during their annual trip to New York City and escort them to the floor of the New York Stock Exchange, giving them a rare inside look at the operations of the age-old institution.
"It would be impossible for our students to even see the inside of the NYSE if it weren't for Doreen's willingness to so graciously host us, especially post 9/11," said Marlena Akhbari, Ph.D., chair of the Department of Finance and Financial Services.
In 1980, at age 25, Mogavero became a member of the New York Stock Exchange. At the time she was the youngest member on the floor.
"When I walked through the doors of 11 Wall Street for the first time as a member and saw all those men, all older and certainly more seasoned than I was," said Mogavero, "I had to make a choice. Do what I came there to do. Or leave and relinquish my dream. I chose to walk in the door, and I have never looked back."
In 1989, she founded Mogavero, Lee & Co., Inc., the first and only floor-based direct access firm to be wholly owned and operated by women. Mogavero bought her NYSE seat in 1994 and was the only woman working on the floor to own her seat when the NYSE Group went public.
In 2003, Mogavero was the first woman from the floor to be appointed to the NYSE Board of Executives. During her tenure on the board, she served as one of only two floor representatives appointed to the Regulation Enforcement and Listing Standards (RELS) Committee.
Mogavero is a frequent market commentator on CNBC and Fox Business News, as well as Bloomberg Radio and TV. She was also featured on a Nightline special on the global financial markets in 2008. Later that year Mogavero appeared in a CBS special on women executives in the financial industry, Women at the Top.
Mogavero is also an active participant in many philanthropic organizations. She serves as the New York Area Coordinator for the National Italian American Foundation (NIAF) and is on the Corporate Advisory Boards of Inwood House, Fordham University Business School, and the New York Presbyterian Hospital.