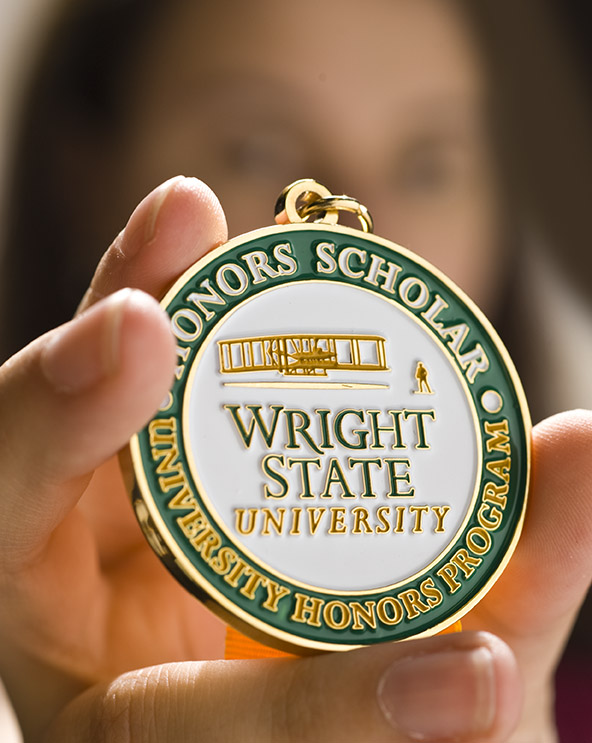 They're overachievers in the classroom. They're leaders in extracurricular activities. They're creative, curious, ambitious, dedicated. They're honors students. As it nears its fourth decade, the University Honors Program has grown to more than 1,000 students. The current group includes 182 high school valedictorians, 60 salutatorians, and 44 National Merit Scholarship recipients— a virtual small college-size group within a public university-size campus.
"We're extremely proud of the program," said Wright State University President David R. Hopkins. "It grows every single year as we continue to attract some of the brightest students from around the world."
The program seeks to provide serious students with an enhanced university experience through innovative teaching, learning, service, and research.
To qualify, incoming freshmen must meet two of the following criteria: a high school GPA higher than 3.25, a ranking in the top 10 percent of their class, or a score in the 90th percentile on the SAT or ACT.
As part of the program, students take at least eight honors courses, three of which must be honors sections of General Education courses. Two of the eight classes must be UH 400 seminars. These special courses are designed to let upper-level honors students explore contemporary topics in depth.
"Going into an honors class, where everyone is already at a higher level and from completely different backgrounds and majors, brings a lot of perspectives to the table," said Tiffany Watts, who graduated as a University Honors Scholar in June.
Honors classes are kept small, typically limited to 20 to 25 students. Faculty emphasize discussion instead of lecturing.
The workload is different, explains Watts. You definitely do a lot more independent reading and writing than you would in a normal class.
"You really go a lot further into the material," she said.
Another feature of honors classes is that they are designed to present the material in an interdisciplinary way, giving students the broad spectrum of education often associated with small, liberal arts schools.
"We don't want students to be wrapped solely in the cocoon of their major," said Susan Carrafiello, Ph.D., the program's director.
In addition to taking honors courses, about two-thirds of students in the program elect to do an independent research project. The project could take many forms, depending on the individual student's interests. An English major may write a novel. A business major may create a marketing plan for a local company. A biology major may do traditional laboratory research.
For Watts, the project gave her a chance to go even deeper into the journalism field she's passionate about.
"My honors project was to improve the copy editing process at our student newspaper, The Guardian, where I was editor-in-chief," she said. "It allowed me to look closely at how we work and how we could make that better."
The projects give students hands-on experience that can be used in portfolios and job interviews.
Honors students enjoy a host of benefits beyond their classes and projects. They get first priority during registration and extensive assistance when applying for prestigious scholarships and fellowships.
Students in the honors program have the option of living in the Honors Community. Among the dorm's many amenities, it boasts an honors professor living in the building. English senior lecturer Jane Blakelock, the current faculty-in-residence, teaches honors courses, sponsors special programs, leads field trips, and is available for counsel on academic issues.
Honors learning communities are open to first-year honors students in the fall quarter. Consisting of 20 to 25 students taking the same two to three classes together, these communities introduce students to the honors experience and make the transition to college easier.
The annual Honors Institute is a multi-track learning experience that includes classes based on that year's theme, a service-learning project, and a keynote address delivered by a figure of national prominence. The institute culminates with a symposium for the entire community.
"It grew out of an attempt to expose our students to an academic conference setting," said Carrafiello. "We pick contemporary, interdisciplinary themes so that participants leave thinking about the topic in multiple ways."
Throughout the year, the honors program presents Honors Dialogues, presentations and discussions on various topics led by honors faculty. The program also organizes service-learning projects and study-abroad trips. This winter, Carrafiello and Blakelock will lead a group of honors students on a tour of Italy.
The honors program has a great deal to offer its students, but it is the students who really make the program shine.
"Certainly, honors students focus a lot of effort on their academic success," said Carrafiello. Practically all honors students receive some sort of academic performance scholarship.
"But more than that, they're the kind of students who are looking beyond the classroom," she said. "They have an intellectual curiosity beyond just themselves, and they tend to think big."
Most honors students are involved in a number of extracurricular activities, often serving as leaders in student organizations or volunteering in the community.
"Honors students interact with the entire campus, which brings a whole new dimension to everything that we do," said Hopkins. "We know they are the future leaders of this world."
Living Honorably
The Honors Community is a residence hall with three wings and 384 beds—the perfect place for scholastically inclined students to settle down for their college career. The community features extensive quiet hours, helpful resident assistants, and a member of the university faculty in residence.
Designed to be a total living-learning community, the building boasts several unique features. There are a classroom and a computer lab on site, lounges, the Bridge Café, and the C-Store. A fitness center is available 24 hours a day.
Testimonials from students paint the Honors Community as a fun place to live.
With a wealth and diversity of students and activities, the Honors Community is never boring. In its halls, decorated with everything from superheroes to Far Side comics, fun and education exist side by side.