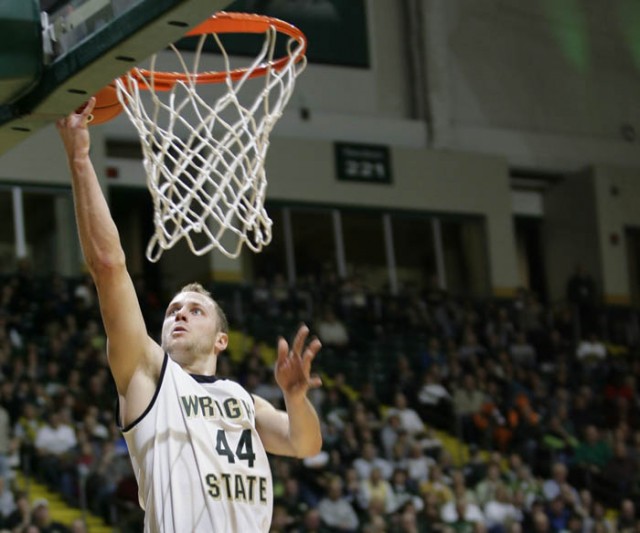 Maybe it was the Norman Rockwell-like childhood, growing up in Indiana farm country with a basketball hoop in the driveway.
Maybe it was the natural athleticism that was nourished and burnished by years of being a gym rat.
Maybe it was simply love of the game and a fear and hatred of sitting on the sidelines.
Whatever it was, it gave Vaughn Duggins the mental toughness to put together a highlight-filled basketball season while playing most of it with a stress fracture of his back.
"It's all pain management," Duggins said. "I don't feel it as much when I play. And once I go out there, I try to play with reckless abandon."
That reckless abandon had the fifth-year senior guard averaging 18.2 points and 3.8 rebounds a game in leading the Raiders to a 19-14 record and into the quarterfinals of the Horizon League Tournament.
"He had a strong senior season to finish an impressive career. Quite frankly, I'll miss watching him play," wrote Kyle Nagel, who covers Wright State basketball for the Dayton Daily News.
Duggins played in a program-record 130 games and finished third on the all-time Wright State career scoring list, with 1,777 points. In Wright State's regular-season victory over Hofstra, playing the whole time with a back brace, Duggins scored a career-high 31 points.
ESPN broadcaster Mark Adams called it the best performance in the weekend BracketBuster event, saying Duggins outhustled, outmuscled, and outtussled Hofstra and was the example whom everyone followed.
"He's the ultimate competitor," head athletic trainer Jason Franklin said of Duggins. "Sometimes he makes it difficult because he will play through any injury and won't want to tell you what is hurting. I'd take a whole team of him."
The 6-foot-3, 195-pound Duggins is strong, fast, agile, and explosive.
"Vaughn is the most athletic and best all-around basketball player I've ever coached," said Joe Buck, who coached Duggins at Pendleton Heights High School, north of Indianapolis, during Buck's 26-year coaching career. "There was not a practice that passed without Vaughn amazing the coaching staff because of his athleticism."
While Duggins prides himself on his defensive intensity and being a team leader, he can be a scoring machine. But coaches throughout his career have had to push Duggins to take shots because he also prides himself on getting his teammates the ball.
Duggins set a single-season scoring record for Pendleton Heights his senior season, averaging 26.5 points a game.
"But I had to coach him to get him to try to score—a very, very unselfish player," Buck recalled. "There were times he might have 25, and I would tell Vaughn he had to look to score."
Hard to believe Duggins wouldn't want to score as much as possible. His idol is Pistol Pete Maravich, the LSU star who holds the college scoring record—an astonishing 44.2 points-per-game average at a time before scoring averages were ballooned by the 3-point line.
When reminded of that achievement, Duggins just shakes his head in wonder. "The number," he says, "the number."
Duggins grew up in a basketball family in a basketball-crazy state. His parents, Curt and Paula, played college basketball at Indiana Tech. Duggins learned the basics of the game from his father. He began playing organized basketball at age 7 or 8, joining a rec league at the local YMCA.
As a boy, Duggins enjoyed the outdoors. His family home sat on 35 acres, some of which were leased out to farmers. The setting gave Duggins a love for wide-open spaces, and he would often go four-wheeling in the nearby fields and woods.
But Duggins also loved enclosed spaces, namely basketball gyms. Or at least he came to love them, spending hours there refining his shooting skills.
"The game came natural to me, but developing into a good player, I had to learn the hard way," he said.
Buck first spotted Duggins in summer basketball camps.
"I knew he was going to be a special-type player because of his competitive nature and his incredible work ethic, which I feel is second to none," Buck said.
At Pendleton Heights, Duggins played on the varsity as a freshman and began starting at the end of his freshman year. During Duggins' four years there, the team won 70 percent of its games.
"I was tougher on Vaughn than any other player on the team," Buck said. "He understood I was just trying to make him the best he could be. He learned early that anything less than 100 percent was not going to be acceptable."
Despite his considerable success in high school, Duggins was never the least bit arrogant, said Buck, who witnessed acts of kindness and compassion. During offseason pickup games, Buck said, Duggins would be the first to console and encourage a player with minimum basketball talent after he made a mistake, even if it was a game-deciding mistake.
When the college recruiting war for Duggins began in earnest, the inside track was held by Billy Donlon, assistant to then University of North Carolina–Wilmington coach Brad Brownell. Donlon, who is currently head coach at Wright State, seldom if ever missed one of Duggins' AAU games, whether it was in Kentucky or Nevada.
And then there were Donlon's visits to Duggins' home, which included an epic ping-pong battle in the basement won by Donlon. (The victory gave Donlon the right to name the ping-pong table, which he immediately dubbed Coach Donlon Court. He's yet to offer Duggins a rematch.)
Even though home-state power Indiana University showed interest in Duggins, he said Donlon's and Brownell's passion about basketball and desire to be the best was contagious.
"They're even crazier about basketball than some of the people in Indiana," Duggins said. "It was kind of natural to be drawn to these guys."
So Duggins decided to play for them. And when Brownell and Donlon left UNC–Wilmington to coach at Wright State, Duggins agreed to follow them.
The highlight of Duggins' college career came in 2007, when Wright State made the NCAA Tournament only to lose 79-58 in the first round to a Pittsburgh team that boasted 7-foot center Aaron Gray.
"But we've had so many things that have happened since then that I'm proud of," said Duggins, who "bleeds" Raider green and gold.
Life outside the court and the classroom includes regular visits to family and friends in Indiana and marathon Call of Duty video game sessions with teammates.
"We put our headsets on and look like a bunch of geeks," Duggins said.
He also admits that he enjoys shopping and likes to dress with an eye for fashion.
During Duggins' Wright State career, his parents never missed a home game and attended most of the road games. Duggins is always aware of where they are sitting, even though it's not together. Curt and Paula Duggins have two different rooting styles and agree it's best to separate for the duration of the game. Paula sits near the court with mothers of the other players. Curt likes to be in one of the top rows, with an eagle's eye view of the action.
"He's kind of quiet. He likes to just watch the game and think about plays," Duggins said. "She's more emotional. She's the real vocal one, yelling at the refs."
Duggins was sailing through his senior season until November 28 during the Southern Illinois game in the Chicago Invitational Challenge. He came down from a rebound wrong and fell.
"It was a weird pain. I had never felt anything like that in my back before," Duggins recalled. "It didn't really hurt too bad at first. But I knew something wasn't right. I continued playing on it. I thought it was something that was going to go away. But the pain never went away."
Athletic trainer Franklin said it took a while to figure out what was wrong. The injury was finally diagnosed as a stress fracture of the lower back, the lumbar vertebrae. The fracture causes the muscles around it to spasm, which causes the pain. Besides wearing the back brace, Duggins went through extended warm-ups prior to each game.
"You treat it by treating the pain," Franklin said. "I don't know if warrior is the right word, but Vaughn takes toughness to a new level."
Coach Donlon knows that all too well.
"He is the most underrated really good player I've ever seen," Donlon said. "He's never had a bad day in practice, in conditioning, in the weight room, due to lack of effort."
After the season, Duggins gave his back and his effort a bit of a rest. But it won't be for long. He wants to continue playing basketball, either in Europe or perhaps get a shot at the NBA.
"Hopefully, I finished strong enough that I'll get a couple looks," he said.