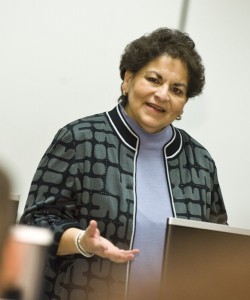 An antique lover and avid collector of historic books and documents, Wright State College of Nursing and Health (CoNH) alumnus Nelda Martinez gave one of her most cherished pieces to her college—a first edition textbook written by famed nurse Florence Nightingale.
On campus for Alumni Reunion Weekend in February, Martinez gave the CoNH what she called "a gift from the heart" before she was awarded the college's Outstanding Alumni of the Year at a luncheon the next day.
"I started thinking about what I can give back to Wright State and also honor my parents, who helped me so much when I was first starting my nursing career here," said Martinez, who also holds a Ph.D. in nursing from Ohio State and is currently serving as dean and professor of nursing at University of Texas–Brownsville.
Nightingale laid the foundation of professional nursing with the establishment, in 1860, of her nursing school at St. Thomas' Hospital in London, the first secular nursing school in the world. The Nightingale Pledge taken by new nurses was named in her honor, and the annual International Nurses Day is celebrated around the world on her birthday.
"She was one of the first nurses to begin identifying key areas of care to another person and she wrote a timeless book about it, Notes on Nursing," said Martinez.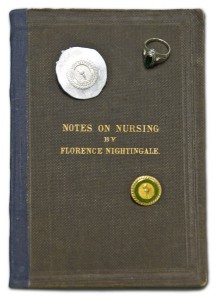 Sharing stories with current students and educators in the CoNH computer lab, Martinez explained how she chose Wright State University and later became the first Hispanic American to earn a Bachelor of Science in Nursing from the university in 1978 and then a Master of Science in Rehabilitation/Community Health Nursing in 1982.
Martinez and others spoke about how Nightingale's analysis and conclusions in the book are still relevant to the profession today. She noted it was similar to how her education from Wright State in the '70s and '80s is also still relevant to her career.
Martinez and 10 other Wright State alumni were honored Saturday, Feb. 11, at the 12th annual College Outstanding Alumni Awards Luncheon at the Wright State University Nutter Center. During the ceremony, each college recognized former students who have gone on to make exceptional contributions to their professional fields while giving back to their communities.