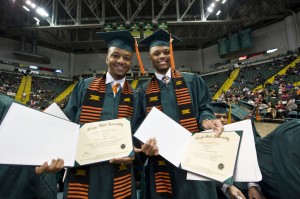 Founded in 2001, the African American Alumni Society was originally formed to commemorate the 30th anniversary of the Bolinga Black Cultural Resources Center. Now, more than 10 years later, the group is working to increase its size and sphere of influence both on campus and off.
"It's important for us to reach out to our young people and help them achieve the goals that we've achieved and to even go further than that," said Pat Jones, president of the African American Alumni Society.
The society hosts various social events on campus for students, giving them the opportunity to network with successful African American alumni while creating awareness of the African American Alumni Society. The group believes that by bringing students into the fold while they're still in school, they will be more likely to join the society once they graduate.
Along with providing opportunities for networking and mentoring, the African American Alumni Society further promotes student success by contributing to scholarships. In recent years, the group has raised $10,000 to endow its own scholarship—the African American Alumni Society Scholars Fund. Twelve students have received scholarships from this fund since 2006.
Society members are hard at work planning their biggest event yet for Homecoming Weekend 2013. Alumni from near and far are invited to participate in a career fair to showcase their professions and
places of work and which types of college degrees are appropriate for those jobs.
"We're hoping that by having something like this, the students will recognize the different types of opportunities that are available to them once they graduate and, hopefully, declare a major quicker," Jones explained. "That way they will know what path they need to be on to get to that particular point in their lives."
In addition to the career fair, next year's homecoming will offer a full weekend of activities, including a reunion dinner, opportunities for networking, and the reinstitution of a student leadership institute in the Bolinga Black Cultural Resources Center. The society hopes these events will recruit new members and get them more engaged in what happens on campus.
Wright State students and alumni are welcome to attend the African American Alumni Society's monthly meetings, which are held the second Thursday of every month at 6 p.m. in the Rockafield Alumni Center.
Visit www.wrightstatealumni.com/africanamerican to learn more about the African American Alumni Society.