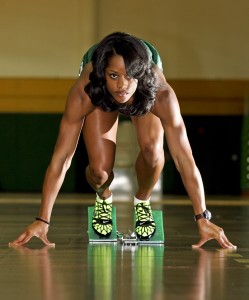 The moment had arrived, and this time Cassandra Lloyd was ready to make up for near misses at NCAA regionals as an underclassman, ready to run focused but loose, and ready to claim her spot at NCAA nationals.
Before settling into the blocks in Bloomington, Ind., at last year's NCAA East Regional, Lloyd, a junior Wright State hurdler at the time, said a little prayer and then unleashed all of her preparation, technique, sinewy strength, and explosive athleticism. "I really wasn't paying any attention to anyone else that day," said Lloyd. "I just went."
With the starter's gunshot, Wright State's first Division 1 All-American exploded from her crouched position. Staying low in her start, Lloyd pushed hard in the drive phase for her first five strides before arising fully erect just as she reached the first hurdle. She cleared the aluminum obstacle in a blur of flailing limbs and the race was on.
Three steps, jump, three steps, jump, repeating the same motions almost unconsciously, clearing the last hurdle and sprinting upright to the finish. Feeling as if the moment itself carried her through, Lloyd likened it to a near out-of-body experience. She notched her best-recorded time in her strongest event, the 100-meter hurdles. Lloyd needed only 13.18 seconds to qualify for nationals.
"I don't know how that happened," said Lloyd. "I was just thinking, 'let's do this.' I really wanted to make it to nationals, so I said to myself, 'Just get in these blocks and go all out'," said Lloyd.
That day Lloyd had a great start, but was nowhere close to finished. Fueled by sour memories of watching upperclassmen take her spot at nationals the previous two years, Lloyd had been building her training regimen with a year-round crescendo of practice and preparation, all the while counting down the 365 days, 8,760 hours, and 525,600 seconds to that one event.
Lloyd is undoubtedly Wright State's greatest track star of all time and may be the university's finest athlete ever. The Springfield South product came from a basketball family and seemed destined to excel in that sport but decided to try her hand at track in high school. She finished her high school career as a Division 1 state champion in the 100-meter hurdles and began her college career with a flurry, winning the league title in the same event. She was ultimately named the Horizon League Newcomer of the Year as a freshman.
Last year, as a junior, she was named the Horizon League Track Athlete of the Year for indoor and outdoor track and field after setting school records in the 60- and 100-meter hurdles. Lloyd has never lost a hurdle event at the Horizon League championships and has accumulated six indoor and outdoor titles in three years. She placed 14th in the 100-meter hurdles at nationals last year and led Wright State to its best finish ever in the league, fourth place.
In her final year at Wright State, Cassandra's training is being constructed toward a goal that is one step further. "I want to be up on that NCAA champions' podium," said Lloyd. When asked what she wants to accomplish this year, Lloyd, humble but confident, ticked off her goals as if reading a grocery list. "I want to make it to indoor nationals in the 60-meter hurdles. In outdoor I want to run under 13 seconds in the 100-meter hurdles. I think that's attainable," Lloyd added with a change in tone that indicated just how routine this conversation has become for her. "I want to make it to the top eight at the outdoor championships.  I also want to make it to the Olympic trials."
The suggestion of an Olympic push murmurs in the background of Lloyd's more immediate goals, but appears to be attainable. If she finishes in the top eight at nationals, she likely will be invited to the Olympic trials. "I don't see why she couldn't get any faster because for the past three years she has improved a lot each year," said Wright State track and field coach Fabien Corbillon. "Does she surprise me every year? She sure does."
Corbillon, a French transplant in America, is willing to talk about the Olympics, but said Lloyd still has much to improve. "Technically she is not where I'd like her to be," said Corbillon. "To me, she's the slowest fast hurdler I've ever seen in my life."
Noting Lloyd's ability to markedly improve each year, Corbillon observed that her sprint technique still holds her back, particularly her propensity for popping up too fast in her start and getting "tight in the shoulders" during a race. The result is a chain reaction that throws off her lower body's efficiency, slowing her sprint. Up to this point, she has been able to make up for it with superb hurdling ability, "But she should be faster than she is on the 60- and 100-meter dash. She's often half a second slower than hurdlers at her level on the flat, and there is no reason for that," according to Corbillon.
Reminded about this all-too familiar critique from "Coach Fabe," as Lloyd calls him, she takes it all in stride. Responding to Corbillion's slowest fast hurdler remark, Lloyd said with a laugh, "I don't know why, but I am. In high school I never really focused on sprinting. They just said, go do these hurdles, so that's what I did. My sprint form is just all messed up. We're trying to work on that."
She continues to trim her times. In her freshman year, Cassandra improved in the 100-meter hurdles by .4 seconds. She shaved off another .4 seconds in the event her sophomore year and then another .3 seconds last year. If she takes it down another .3 seconds, she'll begin to join the ranks of some of the fastest hurdlers in the world.
To make the Olympic team, Corbillon said, "She's basically the perfect age, because she's just about out of college and she can get ready for four years, focusing only on the next Olympics (in 2016, Rio de Janeiro)."
As Lloyd's final collegiate track season approaches, her focus is trained on the podium at nationals. "Anything is possible," said Lloyd.