green machinist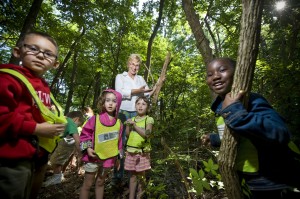 A year after the Cuyahoga River caught fire, Earth Day was born. 1970. It was the first wave of the environmental movement, and high school senior Linda Ramey was riding it.
Since then, Ramey has made a colorful and impressive career out of her love for nature and the environment. She has worked on a Kansas prairie and at the Chicago Botanic Garden. She has carved nature trails and helped herd bison. She has helped spearhead recycling efforts and conducted creative research aimed at getting children off the couch and into nature.
"Nature has been the theme of my whole life," Ramey said. "It's been a lifelong passion."
Ramey's latest stop is as associate director of Wright State's Office of Sustainability.
She and Director Hunt Brown are working with others such as Energy Manager John Howard and Custodial Services Manager Gina Reese to make the campus greener.
More recycling containers sit next to trashcans. Solar thermal panels catch rays on the roof of the Student Union. Buildings have become more energy efficient. A campus community garden that will supply vegetables to the student food pantry has taken root.
Ramey is also pleased to have the support of Dean Charlotte Harris for a three-month pilot program to make offices in the College of Education and Human Services (CEHS) greener and more cost efficient.
Harris applauds the initiative.
"Working together toward sustainability and fiscal responsibility, we in the College of Education and Human Services will provide a model that can be replicated university wide," Harris said.
"So many things have taken off, and I love working with the behind-the-scenes people on campus who make these things happen," added Ramey, who helps to publicize the efforts on the university's Sustainability website.
A recent interview with Ramey is interrupted when a student stops by her office to thank her for working to get more recycling bins around the campus. Ramey gives the student her business card in hopes he will join her small—but growing—environmental army.
"This is what happens more and more often in my day. I love it," said Ramey. "We have a freshman class this year that's the greenest we've ever had. They want to see more energy efficiency on our campus. They want to see more recycling. They want to see that we're responsible in how we take care of the university's woods. These are examples of how concerned they are about sustainability."
Ramey is also passionate about the woods—200-plus acres of trees, wildflowers, and wildlife that not only enhance the beauty of the campus but also serve as a research laboratory. She calls it a unique treasure.
Parks and woods were one of many outdoor childhood playgrounds for Ramey, who grew up on the west side of Cincinnati, the daughter of a policeman. After graduating high school, she studied mostly sciences—at Xavier University, the College of Mt. St. Joseph, and the University of Cincinnati.
Ramey first arrived at Wright State in the mid-1980s to work with Jim Runkle, Ph.D., on a master's degree in forest ecology. The U.S. Army transferred her family to Kansas, where she attended Kansas State University. It was there that she worked as an educator on the Konza Prairie Biological Station, a 13-square-mile preserve of native tallgrass prairie that is home to a herd of several hundred bison, as well as deer and wild turkeys.
Another transfer took her to Illinois, where she landed a job at the Chicago Botanic Garden, a 385-acre park that features two dozen display gardens and four natural areas on nine islands surrounded by lakes. It also serves as a center for learning and scientific research, as well as community gardening outreach, where her efforts were focused.
Still another transfer steered her to South Carolina, where she taught math and science at the University of South Carolina and volunteered at the Clemson University Sandhill Research and Education Center.
Along the way, Ramey obtained her Ph.D. in science education from Kansas State. Then, in 1995, Wright State beckoned.
Ramey became the one of the university's first dual-appointment educators, teaching in both the Department of Biological Sciences and the College of Education and Human Services. She later became Director of the CEHS Office of Field Experience, overseeing the placement of student teachers in Miami Valley-area schools. She also headed up and taught in the middle childhood education program.
But environmental science education remained Ramey's passion.
She created Thumbprint Endeavors Environmental Consulting in 1993 to help clients, like churches, conserve energy and green their buildings, operations, and their people's activities.
She helped start Miami Valley Leave No Child Inside, part of a national movement to get children outside to play and explore the joys of nature. During workshops, Ramey repeatedly heard from parents that they had wonderful personal memories of playing outside as children, before the rise in popularity of computers and cable TV.
So Ramey began asking the parents to sketch their experiences in an attempt to reignite their excitement about the outdoors and infect their children with that enthusiasm. So far, Ramey has collected more than 300 diagrams and accompanying narratives.
"That emotional piece connects with people, whereas statistics don't always sway somebody," Ramey said. "My hope and the hope of everybody with Leave No Child Inside is to get the kids back outside by reminding the parents of the many benefits."
no ordinary joe
Veterans Health Administration medical centers have made great strides recently in energy efficiency and protecting the environment. The use of alternative fuels, lighting upgrades, sustainability-related construction, and special storage for hazardous materials are now in the arsenal.
Wright State University graduate Joe Bozeman has played no small part in these achievements.
Twenty-seven-year-old Bozeman works at the Captain James A. Lovell Federal Health Care Center in North Chicago, Ill., as a Green Environmental Management Systems (GEMS) coordinator, a position established by the VA in 2005.
"I essentially get to wake up every day and champion or imple-ment all things 'green' within our health care center," said Bozeman.
The projects have helped achieve mandates established by Presidents Clinton, Bush, and Obama.
And Bozeman's expertise has enabled him to step beyond the VA world.
At the 2011 GreenGov Symposium in Washington, D.C., he made a presentation on the development of the Cold Composting Calculator, a tool he developed to measure the benefits of letting grass clippings decompose on the lawn instead of removing them. And Bozeman has represented the federal government in a new program designed to get students in K–12 interested in STEM (science, technology, engineering, and mathematics) professions.
"There has been a wealth of other experiences that I've had in my short career thus far that have involved meeting or corresponding with high-ranking White House representatives and the like," he said.
Bozeman's career is far different from the one he envisioned when arriving at Wright State. He was initially interested in computer programming and graphics, inspired by uncles who were involved with computer coding. He saw it as a gateway for developing video games for gaming consoles.
"I was an absolute role-playing game junkie and loved the music and art that accompanied RPGs," he recalled.
However, Bozeman switched from computer programming to mechanical engineering and fell under the spell of Professor Ruby Mawasha, who introduced him to some emerging research and development concepts and projects. "The wheels began turning," Bozeman recalled.
Mawasha said Bozeman developed a solid understanding of fundamental engineering concepts and along with his team took a second place award in a 2008 presentation to the American Society in Engineering Education.
"And he set himself apart from other students with his internship experience," Mawasha said.
During a summer research project, Bozeman studied thermal conductivity of a synthesized material called shape-memory polymer, which can return from a deformed state to its original shape through temperature change and other stimuli. He performed experiments while using a high-altitude balloon.
Following the project, Bozeman "stumbled upon" information about fuel-cell technology and decided to incorporate the thermal experiments he conducted into a master's thesis on the functionality of fuel cells.
A fuel cell is a device that converts the chemical energy from a fuel into electricity through a chemical reaction. Fuel cells are different from batteries in that they require a constant source of fuel and oxygen to run, but they can produce electricity continually for as long as fuel and oxygen are supplied.
Researchers have long been working to reduce the cost of fuel cells, a major hurdle in competing with other technologies, including gasoline engines.
Bozeman decided to use the thermal experiments he and his team performed during the senior research project into a master's thesis on the functionality of fuel cells. Professor Hong Huang incorporated some of Bozeman's interests into research efforts she had under way.
"Ultimately, we were able to verify and perform synthesis of a certain fuel cell component that had not yet been performed or published in that way before," Bozeman said. "We were able to effectively move our scientists and researchers closer to making fuel cells a more cost-effective and efficient tool for renewable and clean energy use."
The project intensified Bozeman's interest in green initiatives and drew him to Wright State's innovative Master of Science in Renewable and Clean Energy program.
"This field of study directly corresponds with environmental stewardship," he said. "Without the strong push for environmental stewardship, the renewable and clean energy field's prospects would be less fruitful than what they are today."
The program is the first of its kind in Ohio and one of about 10 nationwide. It was started in response to a recognized need for solutions to America's energy problems, especially its heavy reliance on fossil fuels.
A collaborative effort with the Air Force Institute of Technology, Central State University, and the University of Dayton, the program offers 22 courses on such topics as solar, wind, and geothermal energy. Bozeman was one of the program's first graduates.
"What I remember about Joe Bozeman is many people wanting to hire him," said James Menart, a professor of mechanical and materials engineering who helps direct the program. "Joe impressed many people with his abilities."
hayden's heyday is energy efficiency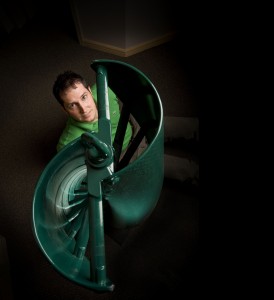 The Ohio State University wants to make five of its buildings more energy efficient. Licking County near Columbus wants the same for several of its structures. And even the small Lake Erie city of Conneaut is interested.
Each entity listed above is considering proposals from Wright State University graduate Scott Hayden and the Dublin, Ohio–based Energy Systems Group, the company for which Hayden works.
"I do the audit of the buildings. I prepare a strategy on what kinds of measures I want to implement," said Hayden, a performance engineer. "There needs to be a strong push to reduce the number of energy-inefficient buildings so we can focus on only what is needed in renewable energy, which is also very important."
According to a report by the U.S. Department of Energy, U.S. households and commercial buildings account for about 40 percent of total U.S. energy use. This comes in the form of heating/cooling, lighting, water heating, refrigeration, cooking, computing, and electronic entertainment.
Energy Systems Group offers its energy-efficiency services to public clients—cities, counties, K–12 schools,  and universities. Since 1994, the company has developed over $1.3 billion in facility improvements and energy efficiency projects for more than 300 customers.
Fixes might include adjustments to lighting and heating/cooling, water conservation, reducing plug loads in electrical outlets, and tightening the building envelope. Newer buildings are not necessarily more energy efficient than older ones.
Hayden said his biggest challenge in coming up with energy efficiencies is trying to get details of a building's energy usage, because many clients simply don't know. The other hurdle is getting the building's occupants to follow energy guidelines once they are implemented—such as not to adjust the thermostat or bring in space heaters
and fans.
"You can make buildings as energy efficient as possible, but you also have a people component in behavior and how people work," he said.
Hayden's career in energy efficiency was an outgrowth of
his interest in engineering, fueled by a passion for cars. (His Mazda Miata has a turbo-charged engine and muscled-up suspension that enable him to take the car to the track for high-performance driving.)
After obtaining his bachelor's degree in mechanical engineering at Wright State, Hayden took a path he hoped would yield a career in the auto industry. But his job with an automotive parts supplier in Wilmington, Ohio, evaporated when the economy sputtered in 2008, and other jobs in the industry were nowhere to be found.
What Hayden did find was Wright State's new Master of Science in Renewable and Clean Energy program.
"I was already interested in energy to begin with—solar panels, energy efficiency," he recalled. "The more I looked into it, the more I became interested in it. It really snowballed from there. I looked forward to every class because I knew I was going to learn something I wanted to know more about. I mostly focused on wind energy and energy efficiency."
For his master's project, Hayden designed a two-blade wind turbine using computer software. He then simulated different wind conditions and rotational speeds.
After graduation in 2011, Hayden took a job with Two-for-One Energy, a Dayton, Ohio, company that did energy audits of residential homes. Then, last November, Hayden landed a job with Energy Systems Group and stepped up his game to handling larger public accounts.
"The focus on conserving energy is the big driver for me; it seems like the right thing to do," Hayden said.