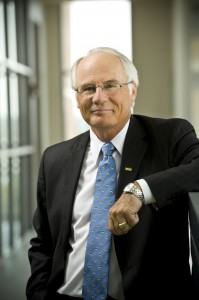 Welcome to this issue of  Wright State University Magazine.
There have been many new developments on campus since our last issue. I am so pleased to inform you that Wright State University now has a seventh Ohio Center of Excellence—in the arts! The excitement of this announcement last October was only surpassed by a congratulatory message from none other than two-time Academy Award-winning actor Tom Hanks.
A longtime supporter of Wright State, Tom graciously gave of his time to film a brief video that was shown at our news conference announcing the latest Center of Excellence. Tom even went one step further and made a 30-second TV spot, encouraging people to come discover the future of the arts at Wright State University. If you haven't seen these wonderful testimonials by Tom, which were edited and produced by Wright State motion pictures graduate Evan Nesbitt, please take a moment to visit our website. You will be beaming with pride!
Receiving praise from someone of Tom Hanks's caliber speaks volumes about the quality of education Wright State provides. It is also a reflection of the continued commitment to excellence by our faculty, staff, and students.
In this issue, you will read about how Wright State is changing lives every day through education, research, and community service. With our innovative degree programs, service-learning opportunities, and real-world research experiences for students, it's little wonder why Wright State is drawing praise from our hometown
to Hollywood.
Of course, none of this would be possible without you—our esteemed alumni, lifelong friends, and generous supporters. Here's to another great year of working together to change the lives of our students and the communities we serve.
Warmest regards from campus,

David R. Hopkins
President
Wright State University