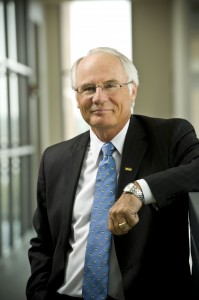 Welcome to this issue of  Wright State University Magazine.
This year marks the 45th anniversary of Wright State University, and what a fascinating 45 years it has been! From our humble beginnings with one academic building on 557 acres of open land to a vibrant campus with nearly 20,000 students, Wright State has come a long way.
Thanks to our incredibly talented and dedicated faculty and staff, we are now a national and international leader in academic excellence, groundbreaking research, and innovative collaborations with the government, military, and private industry.
But our greatest legacy over the last 45 years is our alumni, who are changing lives across the globe. Graduates like Jennifer Whitestone, who is using the latest technology to produce masks that help burn patients heal, or Dave Strobhar, who works to improve the safety of oil refineries and chemical plants.
And if you live in the Dayton or Cincinnati regions, you are certainly familiar with the work of Larry Klaben, CEO and president of Morris Home Furnishings. Larry is one of the furniture industry's most successful entrepreneurs, and we are fortunate to have him as our chair for the Wright State University Board of Trustees.
In this issue, you will meet Jennifer, Dave, Larry, and many of our other successful alumni who are helping to drive the economic development and prosperity of our region, state, and nation. You'll also get acquainted with graduates who are leaders in sustainability and find out how Wright State's campus is becoming greener.
Wherever you may be reading this right now, in the comfort of your family room recliner or the beauty of
your front porch, please join me in raising a glass, coffee mug, or teacup to Wright State University. Happy anniversary, Raiders! It's been a great 45 years so far. Here's to 45 more!
Warmest regards from campus,

David R. Hopkins
President
Wright State University