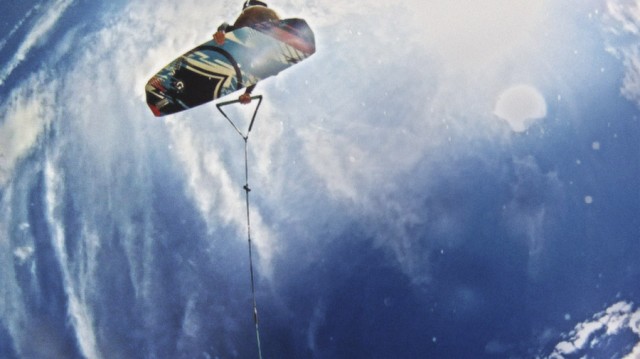 The thrills of water sports have been part of Cole Robinson's life since he was five years old. Growing up in Jamestown, Ohio, with a lake in his backyard, he began waterskiing and barefooting, and eventually moved into wakeboarding, which uses a single, wider board rather than skis. "It's like snowboarding on the water," he explained.
In 2007, Robinson entered his first wakeboarding competition, a state championship hosted by the National Wakeboarding League. He placed second which was enough to qualify for national competition.
"I ended up winning the national championships at 17 years old. That kicked off my desire to pursue it a little more seriously. It's pretty fun, when you're standing on top of the podium," he said.
In wakeboarding, competitors are pulled behind a motorboat or along a cable system, called cable riding. After winning the national championship, Robinson began to focus on cable riding, perfecting his techniques. In Michigan, he competed in Stokestock, a music and wakeboarding event, beginning the day with boat competition and ending with cable.
"At the professional level, I won both the boat and cable, which is really unusual for one rider to win both." After the event, he also earned his first sponsor, Humanoid Wakeboards.
Now a recognized leader in cable and boat wakeboarding, Robinson competes as often as he can, ending his last season with seven consecutive first-place finishes at the professional level. In his free time, he mentors future wakeboarding competitors at Wake Nation in Cincinnati and works on his freelance internet marketing and website design jobs.
A senior in the Raj Soin College of Business, Robinson is fascinated with internet marketing. His parents are successful entrepreneurs and his brother a business and MBA alumnus. Business runs in his blood. He and his family discuss business for hours, as he shares what he is studying and how it applies to his parents' businesses and his brother's endeavors.
About following in his brother's footsteps in his decision to attend Wright State, Robinson smiled as he proudly stated, "I never applied anywhere else. I knew this was where I wanted to go." His younger brother also will be attending Wright State, although not in the business school. "My brother is a really smart kid. He is on track to be valedictorian and will be going into the engineering program here. I guess you could say he has had enough business education from the rest of us."
Thinking about his future, Robinson said he hopes to get an MBA from Wright State. He believes that his undergraduate studies have helped him build the foundation for a successful career in business and also have taught him more about himself.
"Many of my professors have shared great lessons. My entrepreneurship class project allowed me to learn to create an entire business plan with internet marketing. My professor, Kendall Goodrich, was able to help me define some skills, weaknesses, and strengths that will help me with my freelance business and anything I plan to pursue in the future," he said.
Flushing with a blend of humility and determination, Robinson observed that while some call him a professional wakeboarder, he sees his future profession as business and marketing.
"Everything I've accomplished, from wakeboarding to my marketing education, has helped to make me extremely well rounded. The more I've learned about marketing, the more I've applied it to my wakeboarding. Wakeboarding is all about self promotion. I love marketing. Everything is marketing. I'm creating a brand for myself, and promoting that brand."