Women's Basketball Preview
It was a season that, in many ways, ended before it really started.
Before the Wright State women's basketball team had played its fourth game last year, two of its best players had been lost to season-ending knee surgeries. The shorthanded Raiders finished 12–18 overall, 6–10 in the Horizon League.
The silver lining in that dark cloud was the many young players able to see significant playing time. Wright State is now a veteran team looking forward to much better things.
"We will have much more depth," Coach Mike Bradbury said. "We will be more physical and more athletic. We can play a lot faster and be more aggressive
on defense."
Junior guard Kim Demmings was second-team all-Horizon League after leading the Raiders in scoring (19.6 points per game) and assists (4.5). Senior guard Ivory James averaged 11.2 points and was named to the league's all-newcomer team.
Junior guard Courtney Boyd has recovered from her knee surgery. Wright State's top two rebounders, juniors Tayler Stanton and Breanna Stucke, also return.
Five new players joined the team during the offseason, including 6-foot-5 Richelle van der Keijl from the Netherlands and Florida State transfer Tay'ler Mingo.
"We're excited," Bradbury said. "The talent level is where it needs to be to compete for the top of the league."
Men's Basketball Preview
The names are much the same. The expectations are very different.
A year ago, the men's basketball team was being picked to finish last in the Horizon League. Today, many see the Raiders as the 2013–14 preseason favorite.
"Our coaching staff didn't pick us to finish last; our players didn't pick us to finish last," coach Billy Donlon said. "Championships aren't won on paper, and we can't be any more concerned about what people are saying about us this year than we were last year."
Donlon was named the league's coach of the year after leading Wright State to a 23–13 overall record.
The top nine scorers return. They will be joined by Butler transfer Chrishawn Hopkins, a junior guard expected to make significant contributions when he becomes eligible in mid-December.
Senior forward Cole Darling was team MVP and second-team all-league after leading Wright State in scoring (11.3 points per game) and rebounding (4.6). Point guard Reggie Arceneaux averaged 8.9 points and was tops in assists and three-point field goals.
Other returnees who started at least 20 games include guards Kendall Griffin and Matt Vest and forward Tavares Sledge. Senior forward Jerran Young became a starter late in the season and averaged 8.8 points and 4.1 rebounds. Miles Dixon, J. T. Yoho, and A. J. Pacher saw much action in reserve roles.
"We were a pretty unselfish team," Pacher said. "Eight different guys led us in scoring. Notoriety didn't matter as long as we were winning. That needs to continue."
Bowling Powerhouse
The building process may have been quiet and gradual, but Wright State fans recently became aware that one of their teams is now among the nation's elite.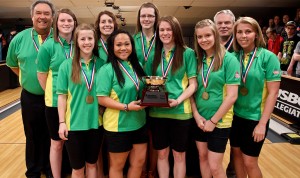 The Raiders placed third at the United States Bowling Congress Women's Intercollegiate Team Championships in April, their highest finish in four national tournament trips over the last five years.
"It was a statement of hard work being validated," head coach Jeff Fleck said. "From the first day of practice, there was a quiet confidence we could do this."
Senior Shayna Kanemoto, who led the team with a 196 average, was named second-team All-America. Junior Stacy Spitzer averaged 193, senior Katie Ruehl 192. Six of eight tournament team members are expected to return this fall.
"We think our program is ready to begin competing for a national championship every year," Fleck said.