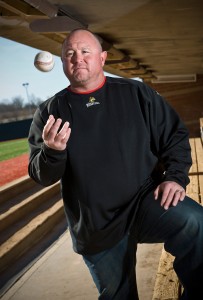 It's a young tribe, but with a wise and experienced leader.
With the loss of 11 seniors from last season's squad, the Wright State baseball team is in a rebuilding mode this year. But they are coached by Rob Cooper, who has won three Horizon League Championships and led the Raiders to three NCAA Regional berths. And what the players lack in experience, they make up for in desire and intensity.
"The strength right now is that the guys are coachable, that they want to get better, that they do care about it," he said. "Hopefully, with that attitude, we'll be able to see some improvement as the year goes on."
The Raiders are led by catcher Garrett Gray of Lewisburg and pitcher Casey Henn of Cincinnati, both fifth-year seniors who were part of two Horizon League Championship teams. Junior outfielder Keiston Greene of Decatur, Ill., has shown promise, being named Horizon League Batter of the Week in March. In a 25-0 win over Wilmington, Greene went 3-for-3 with two home runs, a double, three RBIs, four runs scored and a stolen base.
Cooper says teams to beat this year in the Horizon League include the University of Illinois at Chicago, Valparaiso and Milwaukee. But no one can be ruled out of a championship bid.
"I actually think this is the most balanced the league has been since I've been here," said Cooper, who is in his ninth season.  "Whoever continues to get better and plays well at the end of the year is going to be the one to win it."
Born at the U.S. Air Force Academy in Colorado Springs, where his father was stationed, Cooper grew up in Sacramento, Calif. He was introduced to baseball at age 5, played high school and junior college baseball in Sacramento and went on to play baseball and coach at the University of Miami.
Cooper came to Wright State after serving as an assistant coach at Oral Roberts, a national power. He has guided the Raiders to more than 250 victories, seven straight 30-plus win seasons, and watched 21 of his players sign professional contracts. He has twice joined Team USA as an assistant coach and this summer will take a team to Taiwan.
Cooper credits his success to the players, who have bought into the program.
"We always try to challenge our guys and put them in situations where they're going to be tested and have to grow," Cooper said. "The only way you're going to learn from things is by getting outside your comfort zone. It's just hard work."