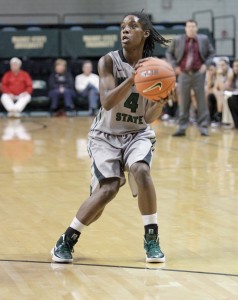 Wright State sophomore guard Kim Demmings has emerged. She led the Horizon League with 4.5 assists per game in the 2012–13 season and scored a robust 19.7 points per game, good for fourth in the conference. She was at times unstoppable, as was the case at Milwaukee when she scored 35 points.
"Hard work, great teammates and coaches, dedication. I think that's how it happened," said Demmings, who was named to the All-Horizon League second team. "If you have the right mindset and a great attitude and determination, you can get good results."
Demmings prefers to face defenders and blow past them by driving to the basket with sudden athleticism. Also a willing passer, Demmings proved her successful freshman year was no fluke and has emerged as an offensive force for the Raiders.
"She was asked to take on more this year and she responded very well," said Mike Bradbury, head women's basketball coach. "She's led our team in scoring her first two years, and if our team can be successful, she could be the best player to ever play here."
Though Raider greatness appears to be within her grasp, she presents a humble and polite demeanor in person, but has an undercurrent of confidence that is ever-present in the best competitors.
"I love scoring," said Demmings. "I attack the rim, and when I get there I know I can pretty much always finish. Most of the time I'm in attack mode, but I know when to pass too."
The 2012–13 season was challenging. A couple of key injuries crippled the Raiders from the onset and the team finished 12-18, but Demmings' sophomore encore is encouraging. Considering the 2010–11 and 2011–12 seasons were the best the program has ever achieved, the future is bright for Demmings and Wright State next season.