He arrived in this country from his native India clutching two suitcases and carrying $200 in his pocket.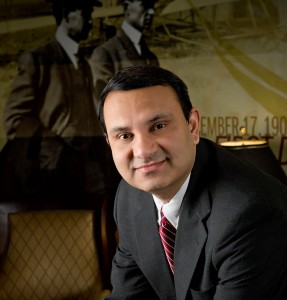 Just 48 years old, Sundaram Narayanan is the new provost of Wright State, assuming his duties as the university's chief operating officer and chief academic officer on March 18. Previously, he was dean of the College of Engineering and Computer Science and helped create and lead the Wright State Research Institute.
"The provost position is a tremendous opportunity to help Wright State grow even further," Narayanan said. "It's important that we continue to grow and support the innovations and the entrepreneurial spirit that exists at the university."
Narayanan grew up in Bangalore in southern India, well known as a hub for India's information technology sector. His parents, both of whom worked for the telephone company, couldn't afford to go to college. But they encouraged Narayanan and his sister to do so.
"The value of education was something that was preached to us," said Narayanan, who obtained his bachelor's degree in mechanical engineering at India's National Institute of Technology, followed by his master's degree from the University of Alabama and doctoral degree from the Georgia Institute of Technology in industrial and systems engineering.
After obtaining the graduate engineering degrees, Narayanan's journey took him to Wright State, where he first taught as an assistant professor, later chaired the Department of Biomedical, Industrial, and Human Factors Engineering, and then led the Wright State Research Institute and the College of Engineering and Computer Science as dean.
Narayanan, who remains active playing cricket with Wright State students and competes against teams at other universities, says being a first-generation college student gives him a special perspective as provost.
"Wright State's mission of providing the opportunity of high-value education to everyone is close to my heart," he said. "We will strive to help students from all backgrounds come to Wright State and become high achievers."
Wright State President David R. Hopkins said Narayanan's 18-year career at the university has proven him to be an outstanding teacher, department chair, and dean. And, said Hopkins, he has a tremendous ability to see how everything fits together.
"While the campus genuinely respects and admires his distinguished career, it is what he will help to lead us to do in the future that has our faculty, staff, and students truly excited," Hopkins said. "It's what sets him apart and positions him to lead."
Narayanan's leadership philosophy is to recruit top talent, give them the tools and resources for success, provide strong mentorship, promote high performers in key positions, set ambitious targets, and break down barriers that limit results.
Narayanan says his goals as provost include continuing to improve academic quality so that students succeed and maintaining the strength and institutional knowledge of faculty and staff in the face of impending retirements. He also wants to make the university more prominent.
"We've got to be known as a market leader," he said. "We have to get the word out in terms of what our professors are doing, what our students are doing—national competitions, publishing in top-quality journals."
Under Narayanan's tenure as dean, the engineering and computer science college experienced its highest enrollment in its history; the school's research funding grew by 67 percent from $9 million in 2009 to $15 million in 2012; and the college created Ohio's only master's degree program in cyber security.
Narayanan was also instrumental in creating and directing the Wright State Research Institute, which in five years has grown to more than 75 employees with annual research awards of more than $20 million.
Narayanan has directed research programs in computer modeling and simulation of complex systems in which the human operator plays a major role. These efforts resulted in nearly $20 million in extramural funding from federal, state, and industry and helped produce over 100 technical articles and two books.
Narayanan says his engineering background has taught him to take a systems approach in decision making.
"It's the whole notion of seeing the bigger picture, the different elements fitting together," he said. "You've got multiple stakeholders, and you need to have a sense of balance between all of the different stakeholders involved."
He also believes in empowering people and encouraging them to express their perspectives and opinions.
"Then you want to be able to put them together in a manner that will constantly focus on what is best for them and for the organization," he said.
Narayanan was named provost following a nationwide search that resulted in six finalists for the position. He succeeds Steven Angle as the university's permanent provost. Angle was named chancellor at the University of Tennessee at Chattanooga in March.
Narayanan and his wife, Viji, reside in Centerville, Ohio, with their three children.