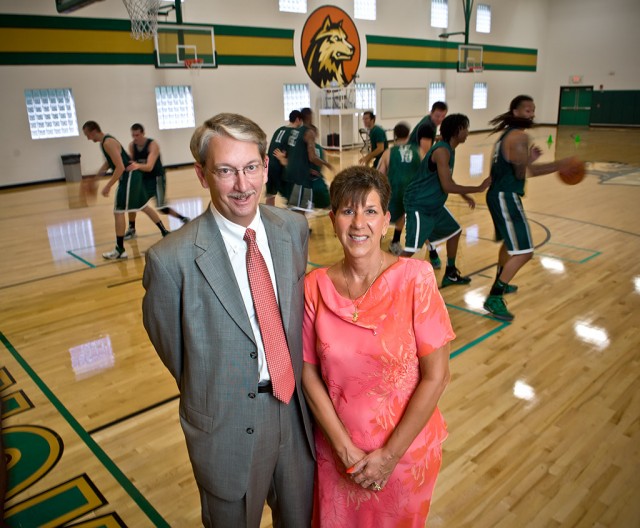 Winter, spring, or fall. Basketball, softball, or baseball. No matter the season or the sport, if the Raiders are playing, Mike and Monica Hax are likely to be there cheering on their favorite team.
Their love of the green and gold began in the early 1970s when Mike was a student at Wright State. With only four buildings on campus, the university and its sports teams were still in their infancy.
"It's just grown so much," said Mike, a 1973 graduate in finance.
Mike had a front row seat to Wright State history, witnessing the birth of several student organizations, including fraternities and the student newspaper. He and some friends got WWSU, the student radio station, off the ground and running.
"If it didn't exist, you started it," Mike explained. "There were all kinds of opportunities to start things that had never been done before."
Although she was a student at nearby Miami-Jacobs Career College, Monica still developed an affinity for Wright State. "A lot of my friends and family graduated from here. I used to come on campus with them," she recalled.
As the years went by, the pair became more involved with Wright State University Athletics, as both supporters and donors.
They can often be found at baseball, softball, and basketball
games, where they cheer on both the men and the women. Mike and Monica were two of the 500 Raider fans that made the pilgrimage to Buffalo, New York, when the men's basketball team played in the 2007 NCAA tournament.
For them, being a Raiders fan is about so much more than just going to the games. It's helping to create the best possible future for Wright State's student-athletes. Annual gifts from the couple and other donors benefit the entire athletics program, including the academic side of the house.
Now they have taken their giving one step further by making a significant planned gift through their estate that will support Wright State University Athletics.
"I would hope that over time, however the money is used, the Athletics Department will grow in all of the sports," said Mike. "They all reach different demographics. They bring people into the university—fans, participants, and parents. The more the university community grows, the more cachet for the Wright State brand."
While they are far too modest to think of themselves as trailblazers, Mike and Monica would like to inspire other Wright State alumni to step up to the plate.
"We're hoping it's like a domino effect," said Monica. "Maybe this will put an idea in the back of a graduate's mind to say, 'I can do that.'"
Their gift is also a testament to what they admire most about Wright State Athletics—a commitment to excellence that goes well beyond the basketball court or the baseball diamond. It's achieved in the classrooms, where student-athletes have earned a cumulative GPA of 3.0 or higher for 30 straight quarters.
"They make sure their education comes first," said Monica.
For Director of Athletics Bob Grant, it came as no surprise that the couple would want to make life better for the next generation of student-athletes.
"Mike and Monica have been emotionally invested in this university from the time I met them," said Grant. "They're the same as they've been for 20 years. How they feel about this gift speaks volumes to their character and their hearts."
One day, future Wright State Raiders will have Mike and Monica Hax to thank for their success on and off the fields of competition.