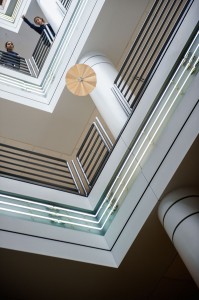 Talented teens from middle and high schools around the nation are coming to Wright State University to compete in a ballet of fiercely competitive science and engineering projects.
For the best young minds in the land, the prestigious 2013 National Science Olympiad Tournament is just the beginning.
Many of the students will go on to top universities, where they will feed their natural curiosity, advance their research skills, and boost the reputation of the school.
Many will see Wright State for the first time. Many will like what they see. And a good number will likely choose to attend.
Gerard J. Putz, president and executive director of the Science Olympiad, said hosting the national event is a "recruiter's dream" for a university.
"Here is an opportunity to showcase your campus and have 2,000 to 3,000 of the best science and math and engineering students in the whole country coming," said Putz, Ph.D. "There will be quite a number who didn't know you are one of the top engineering schools in the country."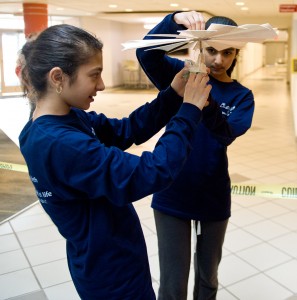 Dominique Belanger, Ph.D., Wright State's director of undergraduate research and STEM activities, believes that students who are involved in the Science Olympiad are often ones who go on to conduct research as college undergraduates.
"I do think that would be an awesome, awesome pipeline," Belanger said of Science Olympians channeling into Wright State. "I would think these would be the students that the faculty would want to snatch up right away and engage them as freshmen. There are a lot of opportunities here that are untapped."
Belanger said Science Olympians who choose to come to Wright State would be able to conduct research relatively quickly.
"These are students you don't have to turn on to research; they are already naturally excited about it," Belanger said. "And now it's becoming more and more important to have those skills under your belt because employers and graduate schools almost expect it."
Wright State is no stranger to Science Olympiads. In the past two years, the university has hosted two invitational or regional Science Olympiads, which draw students primarily from Ohio.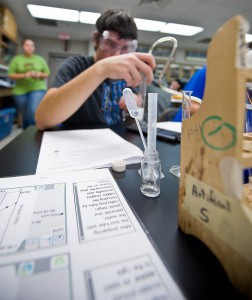 The most recent Science Olympiad, held in January, turned the campus into a beehive of activity, with knots of young, wide-eyed teens exploring the campus and chatting excitedly about their science projects.
One cavernous room played host to a competition of battery buggies, a collection of small, homemade vehicles required to travel a specific distance while avoiding objects in their path.
Judges with yardsticks prowled the floor. Nervous parents and coaches stood on the perimeter. A soft groan went up when one vehicle veered sharply off course.
The atrium of the Russ Engineering Center was turned into an air space for a competition in which students must safely land a raw egg using a homemade rotary device crafted from classic physics designs.
As the students dropped their eggs over a railing on the fourth floor, the crowd below went silent. They gazed up at eggs being cradled by a spinning red kite and then what looked like a pinwheeling parasol, a cellophane butterfly, and a solar satellite.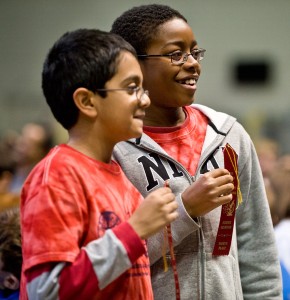 Science Olympiad is a national nonprofit organization whose mission is to improve the quality
of science education, increase interest in science, attract more students to science careers, foster teamwork, emphasize the problem-solving aspects of science, and develop a technologically literate workforce. It has produced a generation of alumni who fill the hallways of top universities and corporations around the globe.
Science Olympiad competitions, which started more than 25 years ago by a grassroots assembly of science teachers, were modeled after successful programs in Delaware and Michigan. They feature competitions in engineering, biology, chemistry, earth science, astronomy, physics, and technology.
The school-based teams prepare and practice throughout the year, then compete in regional and state tournaments. The top teams advance to the national tournament.
The national tournament to be held at Wright State on May 17–18, 2013, is expected to involve 120 teams with up to 5,000 people, including more than 100 National Science Olympiad Committee members, event supervisors, and state directors.
In hosting the national event, Wright State will be joining previous hosts such as the University of Chicago, George Washington University, the University of Colorado, Indiana University, and the University of Illinois.
President Obama has underscored the importance of Science Olympiad, comparing it to high-profile sports competitions.
In a November 2009 speech on science education, Obama said: "If you win the NCAA championship, you come to the White House. Well, if you're a young person and you've produced the best experiment or design, the best hardware or software, you ought to be recognized for that achievement, too."
Obama held White House Science Fairs in 2010 and 2011 in which he honored Science Olympiad champions, including teams from Centerville and Solon, Ohio.
Stephen Gogol, a graduate student at Wright State, was in the Science Olympiad several times while a student at Hempfield Area High School in Irwin, Pennsylvania.
In the 8th grade, Gogol helped make a robotic car that had to pocket billiard balls on top of a pool table. In the 11th grade, he competed in a fossils-knowledge competition as well a technical-writing competition in which he had to describe in great detail a tower built out of Legos so that his partner could try to reconstruct it without seeing it, an event in which Gogol's team placed first in the state.
"Science Olympiad is a cool experience because it's not something that everyone does," he said. "And because there is such a wide range of events, it's pretty easy to find something you're passionate about."
Gogol heard about Wright State during a college fair in Pittsburgh and enrolled in electrical engineering. He later transferred into math education and is currently student teaching and conducting a research project aimed at improving the teaching process
by determining the most effective method of pairing students in the peer-tutoring process.
Gogol said Science Olympiad gave him tools he now uses in college.
"I became a more effective researcher when it comes to digging for information, and then being able to take my thoughts and put them on paper is something I've been improving on all the way up through the college level," he said. "It's been working out pretty nicely for me so far."
Wright State has several organized undergraduate research programs.
The Summer Undergraduate Research/Scholarship/Creative Abilities Program enables students of all majors—from engineering and psychology to marketing, history, and art—to conduct research as part of their undergraduate experience. In addition to conducting research, the students meet for brown-bag lunches, present their research
topics to each other and learn from professional researchers.
Karen Herzing, an undergraduate nursing student, used the program in 2012 to conduct research about the impact on parents of having a baby in a hospital neonatal intensive care unit.
"The program is wonderful," Herzing said. "Just hearing about the other schools of thought, different disciplines; that was very interesting. For example, there was someone from film doing a research project, doing a documentary on a photographer."
Herzing's research took her to Dayton Children's Medical Center's neonatal ICU, where most of the babies were premature or compromised in some way. She interviewed 10 families over the summer of 2012.
David Brendel, a biomedical engineering major at Wright State, is a student
leader at the Air Force Research Laboratory's Discovery Lab near Wright-Patterson Air Force Base.
The Discovery Lab enables college students to conduct research in nanotechnology, micro air vehicles, smartphone programming, and other areas using high-tech and virtual-world tools.
"Most of the research has dealt with subjects that I have never taken a class in, and for some projects most undergraduates have never taken a class in," Brendel said.
He is currently using microcomputer technology and custom circuitry to develop electronics and power systems for the design of a quadrotor that will serve as a flying aircraft carrier for surveillance drones. He is also using aluminum oxide nanoparticles to develop a template for creating advanced materials on a molecular scale for national defense.
Marcus Bracey, a freshman mechanical engineering major, also worked on designing a surveillance drone at the Discovery Lab. In addition, he helped create a virtual hospital environment that enables doctors and nurses to train for different medical scenarios.
Brendel plans to pursue his master's degree in materials science at the Air Force Institute of Technology that he hopes will lead to a career in nanotechnology.
"My experience as a researcher at the AFRL Discovery Lab has provided me with many networking opportunities, which have been beneficial in establishing relationships with other researchers and future job opportunities," he said. "In addition, my research has contributed to most of my knowledge about science and engineering. So it has helped me in my career and future immensely by default and probably in ways I have yet
to discover."
Putz said Science Olympians are natural collegiate researchers because they not only have mastered rigorous science content, but also know how to work together.
"They've learned this teamwork skill. And they can get the job done," Putz said. "They are given a task where you can't just find a model, copy it, and do it—you have to come up with original solutions. These are ideal candidates."
To learn more, please visit the Science Olympiad website.