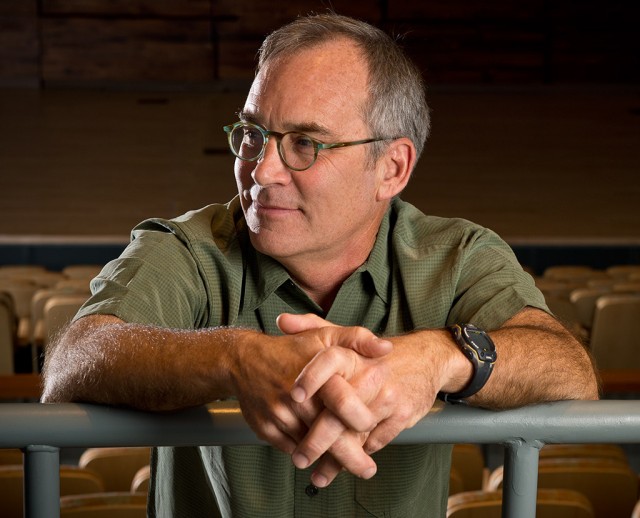 Cramming in college … pulling all-nighters. Sound familiar? It's not always a bad thing. In fact, it helped prepare award-winning composer Stephen Hampton for the tight deadlines he would encounter in the high-pressure music industry.
"You begin to trust your first instincts because you don't have time to rethink it," Hampton explained. "And a lot of times, those first instincts are pretty good."
Hampton and John Adair, his writing and business partner, founded Emoto Music in Santa Monica, California, which scores original music for TV commercials, such as Lexus, Adidas, Mountain Dew, T-Mobile, and eBay. Although they've sold the company, they still compose for Emoto part time. This dynamic duo also has Hampton-Adair Music for television scoring and do the week-to-week scoring for several TV shows, including the Disney Channel's Jessie. They've won a number of Broadcast Music, Inc., and American Society of Composers, Authors, and Publishers awards for such shows as Wizards of Waverly Place, Just Shoot Me! and 8 Simple Rules. And Hampton even finds a little time to do some film scoring.
Although he's won awards, he's most proud of the large orchestral pieces for clients such as Isuzu and Best Buy, where he brings in an 85-piece orchestra. "It's difficult, but rewarding," he said. He's also proud that he was asked to compose a fanfare for Wright State, which debuted at the 2007 inauguration of President David R. Hopkins, which Hampton attended. "That was a super thrilling moment to come here and hear that performed live," he said.
Hampton earned a bachelor's of music in theory and composition from Wright State in 1980. He was one of the first guitar majors. After getting a chance to be in a recording studio during college, he was hooked. "That was like pulling the curtain back," he explained. "I liked the recording, the gear, writing music; I knew I wanted to be in music."
Wright State provided Hampton with a strong music foundation that would serve him well. "I always found it fascinating roaming around the practice rooms," he recalled. "You'd hear all kind of music being played, from Chopin to the theme from Hogan's Heroes. " Little did Hampton know at the time that he would be composing orchestral pieces and television themes himself someday.
Hampton met his wife, Jamie, a theatre tech major, while they were students at Wright State. When they graduated in 1980, she got the first job as a costume designer with the opera company in Anchorage, Alaska, so the couple set off on an adventure. Hampton's parents just happened to live there because his dad was in the Air Force.
"I had no idea what I was going to do, especially as a music major," he noted. "It's not like you walk out the door and sign up with IBM or something. But I stuck with it and made it up as I went along."
Hampton played acoustic guitar in bars and started composing for commercials and small films. He was producing a record with some local artists who wanted to record in a studio in Los Angeles, so they did. He built a relationship with the studio owner, who offered him a job several months later, and the Hamptons moved. "I would've never guessed I would end up in Los Angeles," he said.
The company grew and got more and more high-profile jobs. "Then the whole Nike thing hit and we were the music house that did all the music for that, so that put us on the map. After that, we had a lot of work out of the New York and Chicago ad agencies."
Eventually Hampton branched out into television scoring. Familiarity with a broad range of musical styles that he learned at Wright State has served him well over the years. For example, the scoring for Jessie may include a Ballywood sequence one week and a Hitchcock film feel the next. He and Adair produced a new title theme for Alaska, the Last Frontier, about singer-songwriter Jewel's family in Homer, Alaska. Jewel's father, Atz Kilcher, wrote the song and was flown to Hampton's Santa Monica studio to
record it.
"The ability to analyze music and pick it apart and figure out what's going on and to be able to reproduce that, I can directly link back to my years at Wright State," he explained. "It really honed my skills and my ear."
His favorite Wright State memories include listening to great local bands at May Daze and the time his guitar ensemble wore white high top Chuck Taylor shoes with their tuxes during a concert. One of Hampton's favorite professors was William Steinohrt, who was a composer and conductor. "He was always kind of a hero to me." And he learned a lot in Leland Bland's music theory classes.
Hampton has loved soccer since he was a boy and still plays at least once a week. He can also be found hiking in Yosemite or skiing on the slopes of Mammoth, where he said, "You can get as scary and crazy as you want."
Creativity runs deep in the Hampton household. Wife Jamie works at Pepperdine University part time in the costume department and for a couple of high schools. Their daughter, Katie, is a singer/songwriter and works in the art department of the TV show, Modern Family. She collaborated with her father on an EP released earlier this year and tours with Sergio Mendes. His oldest son, Will, is a recording engineer in Los Angeles and does some work for Emoto. His youngest son, Bob, is also a singer/songwriter and pianist who plans to attend Berklee College of Music in Boston next year.