Voisard Honored with Diploma at Bedside
Great professors are generous, compassion-ate, unselfish.
Sherri Herrick, a management instructor in the Raj Soin College of Business, was all of these things and more after she learned that one of her students, Brian Voisard, was gravely ill and could not attend the April 2013 graduation ceremony.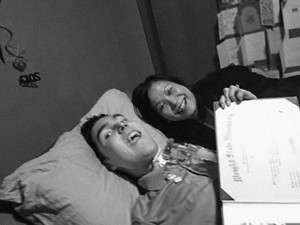 Herrick played an instrumental role in arranging permission to award the 21-year-old Voisard his diploma during a bedside ceremony at his home in the western Ohio village of Versailles.
Voisard was propped up in his bed. Pinned to his bedroom wall was a Wright State pennant.
Crowded into the room were Voisard's parents, relatives, friends. Looking on was the family priest, five nurses, a hospice worker. Representing Wright State were Herrick; College of Business Dean Joanne Li; management chair Bud Baker; and professor Melissa Gruys.
Li presided over the ceremony, giving Voisard's family a chance to rejoice, however briefly, in the glow of his exceptional achievements.
"His face beamed when I presented him with the diploma," Li said. "I felt so privileged to be able to serve Brian and his family. That is what Wright State should be about and
is about."
Wright State researcher discovers mechanism to slow tumor growth 
Wright State University Boonshoft School of Medicine professor Julian Gomez-Cambronero, Ph.D., and his research team have discovered a key protein that plays a critical role in the development of breast cancer tumors and the spread of the disease to the nearby lungs. Cambronero's findings, published in July in the leading cancer journal Oncogene, attribute the cancer's growth to a protein called Phospholipase D (PLD). Cambronero and his team found that by introducing two new chemical inhibitors of PLD they could shrink tumor growth and reduce subsequent metastasis by around 70 percent.
Women's tennis program honored by NCAA for academics
The NCAA recognized the Wright State University women's tennis program for its Academic Progress Rate (APR) with a perfect score of 1000, marking the fourth straight year that it has received the honor. Each year, the NCAA tracks the classroom performance of student-athletes on every Division I team through the annual scorecard of academic achievement known as APR. The rate measures eligibility, graduation, and retention each semester or quarter and provides a clear picture of the academic performance in each sport.
Hopkins elected chair of Inter-University Council of Ohio
Wright State University President David R. Hopkins was elected chair of the Inter-University Council of Ohio and will preside over the council of presidents who represent Ohio's 14 public universities. Hopkins' term runs from July 1, 2013, through June 30, 2014, making Wright State the chair institution of the IUC.
In his role as chair, Hopkins, along with IUC President Bruce Johnson, will oversee IUC operations and its agenda. Through the IUC, the member universities collaborate and work with state government to help chart the future of higher education and make it an engine for economic revitalization in Ohio.
Klingbeil named dean of the College of Engineering and Computer Science
Nathan Klingbeil, who has spent 14 years as a teacher, researcher, and administrator at Wright State's College of Engineering and Computer Science, was selected as the next dean.
Klingbeil is a three-time recipient of the college's Excellence in Teaching Award and was named the 2005 Ohio Professor of the Year by the Carnegie Foundation for the Advancement of Teaching and Council for Advancement and Support of Education (CASE). He and his fellow researchers have been funded seven times by the National Science Foundation, and he has led externally funded research and education projects totaling over $5.6 million.
Previously, he served as senior associate dean, the Robert J. Kegerreis Distinguished Professor of Teaching, director of student retention and success, professor, and associate dean for academic affairs.
Lake student named Wright State and Ohio Student Employee of the Year
A Marine Corps veteran and engineering student lauded for his work ethic as a laboratory and teaching assistant won both the Wright State and Ohio Student Employee of the Year Awards.
Kris Hyde, a mechanical engineering student at Wright State's Lake Campus in Celina, first became interested in mechanical engineering while serving as a heavy equipment operator in the Marine Corps.
Engineering lecturer Dennis Hance nominated Hyde for the award because of his exceptional work ethic and technical understanding.
Hyde resides in New Bremen with his wife, Christan, and their infant son, Everett.
Rowdy Raider wins Mascot Championship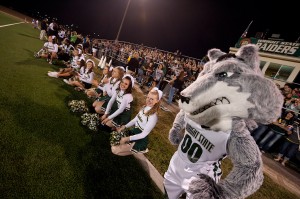 For the first time in Wright State history, Rowdy Raider became the UCA Mascot National Champion. Matt Herman, who had been Rowdy for five years, capped off his senior year with a 90-second news- themed skit that brought the house down at nationals. Rowdy competed against nine other university mascots in April at the annual National Cheerleading Competition in Daytona Beach, Florida.
His journey to a championship began last summer during the Mascot Training Camp when he was crowned the Best Overall Mascot of the camp and a Mascot All-American, earning him an invite to the national competition. "When they called my name, I just stood there for several seconds in disbelief," said Herman.
Groundbreaking launches pioneering neuroscience-engineering building 
Wright State University broke ground on a new state-of-the-art laboratory building expected to become a beacon for translational neuroscience and engineering research. The $37 million, four-story Neuroscience Engineering Collaboration building is expected to be finished by February 2015. Neuroscientists, physicians, and engineers will focus on research and development of new technologies to improve treatment strategies and medical devices especially related to the fields of neurological disorders and traumatic injuries.
The goal is to help speed the commercialization and clinical use of research and the new technologies.
Deedrick earns Service Award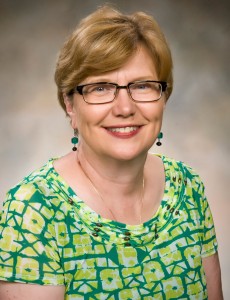 Often the first person in line to help a student dealing with terrible circumstances, Wright State's Office of Student Support Services Director Katie Deedrick received the 2013 Greene County Outstanding Community Service Award. When an  incident takes place, she is the person who receives the phone call in the middle of the night and drives to the hospital to offer the university's help to the victim and his or her family. Deedrick also promotes personal safety among the student body and helps introduce community agencies to students who might utilize their services.
"She is 'all in' in terms of helping that student. Nobody else could do Katie's job the way she does it. She takes every incident very personally," said Kathy Morris, associate vice president in the Division of Student Affairs.