Fowler Focused on Team Success
Mark Fowler has learned it's not all about him.
"Part of the maturing process for me has been to shift my focus from stats and scouts to having a great senior year," Fowler said. "I want to be a leader, a team guy, and not spend much time thinking about myself."
The Wright State outfielder is coming off a junior year in which he batted .309, stole 11 bases, and was named to the Horizon League's all-newcomer team. He is hoping for even bigger things during the 2014 season.
Fowler's father, Mark Sr., played college baseball at Tennessee State before becoming a Cincinnati police officer. His mother, Kym, played high school basketball. Mark Fowler, Jr., gained athletic ability from both as well as a structured home life that included lots of sports for him and two older sisters.
"I was an energetic kid, and my mom would rather see me play sports than to run around the house bouncing off the walls and knocking things off the table," Fowler said. "I started playing soccer and baseball when I was four and always loved sports."
Fowler was offered a football scholarship by Youngstown State during his senior year at Lakota West High School. But, at 5-foot-9 and 182 pounds, he did not foresee a future in professional football. Fowler instead spent two years at Wabash Valley College in Mt. Carmel, Illinois, where he batted .345 and caught Wright State coach Greg Lovelady's eye during a "scout day" workout.
"Mark has great speed and defensive ability, he's strong and has some power for not being an especially big guy," Lovelady said. "He is what pro guys look for. They'll just need to see consistency."
The business management major has forged a GPA well above 3.0 and is on schedule to graduate in the fall of 2014.
"He has fun, but he's respectful and humble," Lovelady said. "I hope my two sons will be like him when they grow up."
Competitive Spirit Serves DeWitt Well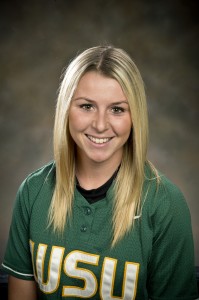 Krystian DeWitt admits to being competitive.
"I hate losing," Wright State's senior pitcher said. "I'm the kind of person who, if I lose at Candyland, will look across the table and yell, 'Hey, you cheated!' "
While she may not be much fun at board games, DeWitt's coaches and teammates certainly appreciate her competitive side. She came into the 2014 season needing just four victories to become Wright State's all-time leader. The 2013 second-team all-Horizon League selection was already No. 1 in career starts and appearances.
"If you ask our players, 'Who do you know is going to get the job done?,' I am sure Krystian's name would be the first one that would pop into their heads," Raiders coach Lynn Curylo said.
DeWitt counts on a drop ball, a curve, and a "flip" changeup for outs. She can also count on experience, having played competitive softball since age 8. DeWitt was a star at Pacifica High School in Garden Grove, California, before choosing Wright State over New Mexico and Samford.
"I love the different seasons and the transitions in Ohio," said DeWitt, named an  "honorary Midwesterner" by her teammates. "You don't see the reds and oranges in California that you do here. I also felt very welcomed at Wright State from the moment I set foot on campus."
The Raiders' 2013 team MVP has become less welcoming to opposing batters as her control has improved. She walked 4.84 batters per seven innings as a freshman, 2.24 last year. That improved control helped lead to a 1.98 ERA and .231 opponents' batting average last season.
"She drives a lot harder off the mound and is confident in throwing any pitch in any situation," Curylo said.
The organizational leadership major envisions a career in sales upon graduating, but will utilize her leadership skills this spring to help Wright State reach the top of the Horizon League.
"We have the best team in my four years here," DeWitt said. "Winning the league is definitely an achievable goal."