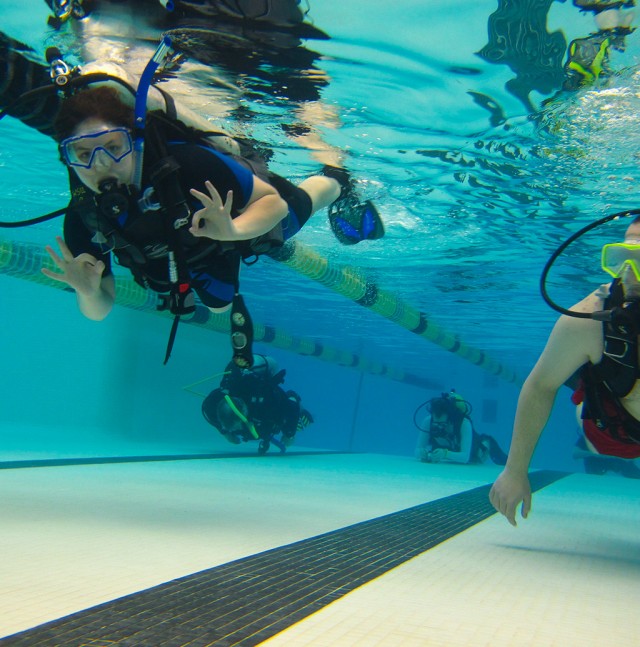 A Wright State University program that routinely dumps students in freezing waters, has incorporated the use of former Navy SEALs, and is known in such faraway places as the Polynesian island nation of Tonga, is about to celebrate its 40th birthday.
The scuba program at Wright State has educated over 10,000 students since 1974. As far as Serbia and Japan, the program with no local oceanic coastline is known as one of the best places in the world to receive diving instruction. The chief dive-training educator for the Dayton region, it's responsible for educating many of the forensic divers in the area and sends engineering, biology, and geology students out into the job market with game-changing skills.
Started by a man recently inducted into the Diving Industry Hall of Fame, it has pioneered safety protocols and procedures, and famously sent college students to the depths of freezing, zero-visibility rivers, lakes, and gravel pits all over North America.
Two prominent dive instructors and faculty members can lay claim to the program's undeniable success and safety record—no Wright State student has ever been injured during scuba instruction. The first is program creator Dan Orr. The second is current scuba program coordinator Regina Bier.
Orr's in the water
Dan Orr grew up in South Florida and often dove for shells and treasures with his brother at his grandparent's home in the Florida Keys. An expert recreational diver at a young age, he moved to the Miami Valley in the '60s and came to Wright State at the end of the decade to study biology.
Orr finished a bachelor's degree in '73 and began graduate school the next year. By then, he'd been teaching diving in southwest Ohio for a while as a scuba instructor in West Carrollton, at a scuba club at Wright-Patterson Air Force Base, and for the Dayton YMCA. When he heard Wright State was going to build a pool, he was convinced a new scuba program should follow.
Though he was not the first choice to lead the program, it didn't take long for Orr—whose persistence to help in any way made him impossible to ignore—to be tasked with shaping the program. Orr was given carte blanche to develop the program the best way he saw fit.
"I'd been teaching a while at that point and I just felt that teaching the minimum standards was not enough," said Orr on the phone from his home in Idaho. "I wanted people to be able to use the skills for a career or expert recreational use."
Orr began crafting a program for divers based in the Midwest who would likely do most of their diving in the region, too. The entry-level class utilized the Wright State pool for their confined water training before going to the open water to complete requirements for certification. Subsequent classes rarely occurred anywhere but in the field. Students dove in ponds, lakes, and rivers all over the area. Open water dives in the winter months were common.
"If we were going to teach a student a skill, we wanted to teach them to do that skill in any condition, without exception," said Orr. Word was getting out that a fantastic program was being built. Soon Orr's staff included former Navy divers and even former SEALs.
Students who worked their way up to the advanced research and diving course—a course designed for students to apply to their careers—would tackle five diving-related projects each summer. Projects centering on environmental and aquatic ecology, deep diving, and decompression diving led students across the country. During an archeological dive project, students dove on a shipwreck in Canada and were tasked with salvaging both small objects, as well as objects weighing up to a ton. The marine biology project took students to the Gulf of Mexico.
After working with the university for 20 years, Orr began working with the fledgling Divers Alert Network (DAN). As the DAN regional coordinator and instructor, Orr designed industry-standard safety classes, protocols, and programs. Orr began at DAN as a volunteer and retired decades later as the president. Last year he was inducted into the Diving Industry Hall of Fame, where he joined world-famous underwater explorer Jacques Cousteau, among many others.
A legacy upheld
While teaching scuba at Wright State, Orr came across a dedicated and eager young diving student named Regina Bier.
Bier's father was an avid diver in the Dayton area in the '50s, when the sport was at its recreational infancy. Her father did some diving for local law enforcement and even the FBI. His best friend and dive partner was Ray Tussey, who later became one of the founding instructors with NAUI, the National Association of Underwater Instructors. One of Tussey's early students was Orr.
"I can remember hearing my father's stories and seeing his diving gear hanging on our garage wall and thinking 'I just want to dive,'" said Bier, adjunct faculty and detective with the Kettering Police Department. "I was just hell-bent on learning how. I came to Wright State, saw it had a program, and thought, 'this is my chance.'"
Bier first trained to become an excellent swimmer, and then enthusiastically studied under Orr to become an expert diver.
Orr's commitment to safety and commanding presence only solidified Bier's interest in finding a way to incorporate diving into her career. After graduation, she began working in law enforcement.
A few years later, after Orr had moved on, Bier picked up the pieces of a program that had slipped in quality but was not dead in the water. She vowed to meet the standards her mentor had established before her.
"He left some really big shoes to fill," said Bier, who was inducted into the Women Diver Hall of Fame in 2011 and is a NAUI-certified course director—the highest level of certification the association gives to recreational diving teachers.
The first thing she did was re-establish a rock-solid basic scuba-diving class again. Her goal was to return the program to a state in which students could go from beginner, to master diver, to instructor. Soon the numbers were back up, and about 75 percent of students from the beginner class were moving on to advanced classes.
The 25 percent that just want to learn the sport take with them a skill and experiences that change their lives. "For those of us not looking to make a career in diving, there's still a lot to experience as a recreational diver—it's a fun, relaxing sport that's added a new dimension to my life," said Tiffany Fridley, who's taken the basic open water class and the advanced diver class and is in the master diver class this spring.
Those same advanced classes have also been training the forensic divers the Miami Valley has largely relied on for the last two decades. The need for search and recovery evidentiary dives is not great enough in the area that any one police or fire department can afford to keep a team on board. Bier has often been the only game in town. On nearly all of the dives she's done, she's loaded her team with Raiders.
"When I need divers to assist me with evidence diving, since I know they've been trained and I know their certifications are current and they're in the water regularly right now, it only makes sense," said Bier.
In fact during a recent dive of a Montgomery County gravel pit for the infamous Erica Baker cold case, every diver was a current or former scuba student at Wright State. Baker was a nine-year-old-girl who disappeared from her Kettering neighborhood in 1999 and has never been found. Evidence has long pointed to her body being disposed of in a local body of water.
"In a dive like that, there's zero visibility. Everything in that type of search is done with touch and feel and it takes hours underwater," said Bier. "Everything they can do where they can see, I want my students to be able to do just as well when they can't see."
Today she teaches all levels of scuba at Wright State and draws students interested in careers in engineering, biology, marine biology, geology, oceanography, and public safety. One student was in the first internship class at the Newport Aquarium in northern Kentucky and is now a dive safety officer there. Another just left the program to go to commercial diving school to prepare for a high-tech career of deep oceanic dives supporting oilrigs and other nautical applications. Chris Buck, a certified divemaster who worked with Bier on the recent Baker search, hopes to incorporate his diving skills into a career in emergency planning.
"These forensic dives often mean searching with our hands the entire time," said Buck. "Imagine that you have thick gloves on, are blindfolded, and are trying to distinguish between a stick and bone."
Bier uses stress training, zero visibility training, entanglement training, and search training techniques to prepare students for whatever their dive futures may offer.
"They're learning to handle not only their best day of diving, but I teach them how to handle their worst day," said Bier. "That legacy began with Dan Orr, and I strive to maintain that every day."