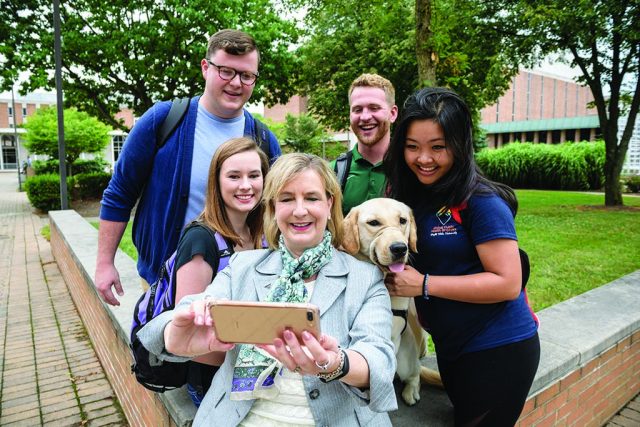 Greetings!
Welcome to this issue of the Wright State University Magazine.
I must first begin by saying that this is no ordinary issue of the magazine. This special commemorative issue celebrates an incredibly important milestone in our history—Wright State University's 50th anniversary.
I am honored and humbled to begin my tenure as Wright State University's seventh president during our 50th anniversary year. What an extraordinary time to be at Wright State! There is much to celebrate over our last 50 years and even more to look forward to in our next half-century.
Part of what attracted me to the presidency at Wright State was your long legacy of excellence. As your president, I am committed to focusing on excellence as we move boldly together into our next 50 years.
I know that excellence abounds throughout Wright State. We see excellence in our research. Our world-class fine and performing arts. Our commitment to serving the needs of the region, state, and beyond. Most of all, we see excellence in our faculty, our staff, our students, and our alumni.
Excellence will be a guiding force as we move forward as a university and craft a comprehensive strategic plan. Over the next several months, I will be focusing much of my time and energy on campus conversation. Please bear with me as this will be a lengthy and time-consuming process—and an important investment in our people—as I visit various colleges, departments, and units across our vibrant campus.
As well, I look forward to venturing beyond our campus and region to meet our alumni, friends, and partners throughout the state and nation. I want to learn what you're passionate about. To discover your hopes and dreams and what you envision for Wright State's next 50 years.
Everyone I have met so far—our faculty, staff, students, alumni, and community partners—has been so welcoming to me and my family. I look forward to meeting many more of you in the months and years to come. I can't wait to hear your stories about how Wright State has made a difference in your lives.
Until then, please enjoy this special issue commemorating the 50th anniversary of Wright State University. Take a trip down memory lane through historical photos, fun stories, and firsthand accounts of the last five decades. I hope these words and images will bring back many happy memories of this great university and make you even more excited about what our future has in store.
Happy 50th anniversary, Wright State!
Warmest regards,
Cheryl B. Schrader, Ph.D.
President