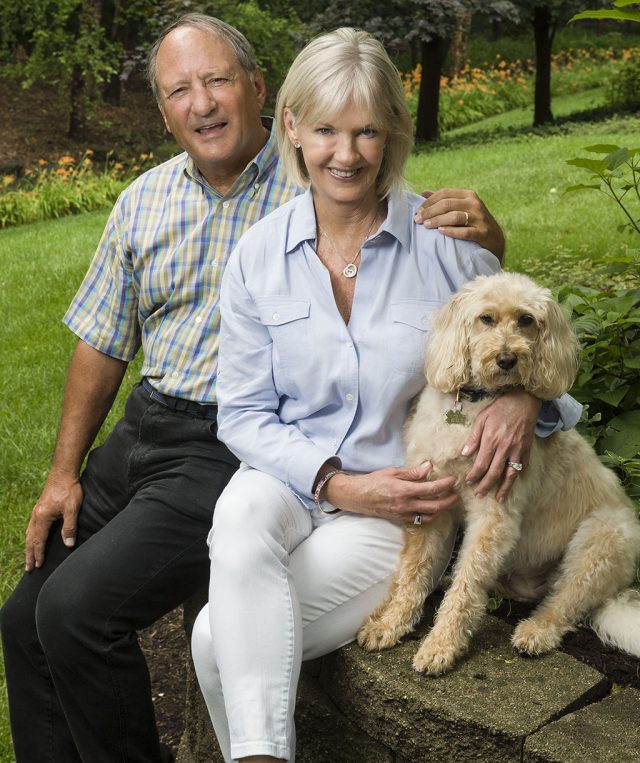 Shirley Berry credits her alma mater, Wright State University, with giving her the best start in life and setting her on the path to future success.
"I am who I am today as a result of all of the experiences I had in college and the opportunities Wright State afforded me," she explained.
Now future generations of Wright State students will be able to achieve their fullest potential thanks to the generosity of Shirley and her husband, John.
The Berrys have donated $1.5 million to support student success programming and operations in the university's Student Success Center, which first opened in June 2015.
The Student Success Center features high-tech, active-learning classrooms, along with writing and math support labs. Prior to the opening of the Student Success Center, academic support such as advising, writing, and math services were scattered all over campus, making it inconvenient for students and less likely that the services would be used.
The Berrys liked Wright State's innovative concept of taking a building and completely dedicating it to helping students excel in their classes.
"Wright State's really unique with their programs to help students graduate," said John Berry, retired president of The Berry Company in Dayton. "Some of the kids who attend Wright State come from high schools where support services were unavailable to them. Having a Student Success Center on campus is a valuable and critical resource to students who need continuing assistance or help with a particular course."
The Berrys hope their gift will improve the odds that more students will overcome frustrations and complete their degrees. "The Student Success Center just might provide the assistance needed to persevere," said Shirley.
Shirley first enrolled at Wright State in 1967, then left to attend Miami University for a year. She married and later returned to Wright State as a single mother to finish her degree. She graduated from Wright State in 1977 with a Bachelor of Science in Secondary Business Education.
Following graduation, Shirley was hired through the university's Office of Career Services as an international sales specialist for Koehring Construction Equipment. That job expanded her knowledge previously gained in working with her family's local construction business.
"I really wanted to be a teacher, but that position came up first," she explained.
Shirley would go on to teach part time at Wright-Patterson Air Force Base and later at Carroll High School, teaching a variety of business subjects from bookkeeping and accounting to semester courses in consumer economics, business law, and marketing. She later returned to Wright-Patterson Air Force Base to teach software applications and develop course materials for use in the classroom.
"Wright State prepared me better than anything for those positions," she said.
For the Berrys, their gift is not only an opportunity to give back to the university that helped make Shirley the person she is today; it's also a way to support a school that means so much to the community.
"I can't tell you how many people that worked for me who graduated from Wright State," said John. "It certainly meant a lot to have Wright State as a resource. Many of our employees either graduated from or furthered their education at Wright State."
John and Shirley continue a long legacy of family philanthropy started by John's grandfather, Loren Berry.
"We're very fortunate to be able to help out and to make our community better," said John.
The Berrys focus their philanthropic support on causes that help the broadest range of people, such as health care, education, community, youth, and the arts.
"There is no greater gift that you can give to the next generation than education," said Shirley. "At Wright State, you get a great education and the dollar value is there."
In appreciation of their gift, Wright State University has named the 220-seat auditorium in the Student Success Center the John and Shirley ('77) Berry Auditorium.
With her gift, Shirley Berry joins 14 other Wright State alumni who have each contributed $1 million or more to Rise. Shine. The Campaign for Wright State University. 
Led by Academy Award–winning actor Tom Hanks and Amanda Wright Lane, great grandniece of university namesakes Wilbur and Orville Wright, Rise. Shine. promises to further elevate the school's prominence by expanding scholarships, attracting more top-flight faculty, and supporting construction of state-of-the-art facilities.
"I'm so proud that we can do this for Wright State," Shirley said. "It makes a big difference in people's lives whether they have a degree or not."