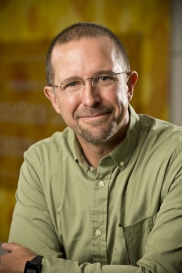 Michael Raymer, Ph.D., has been appointed associate dean for research and graduate studies in the College of Engineering and Computer Science.
Raymer is charged with expanding the research preeminence of the college by leading cross-disciplinary proposals that build upon world-class research strengths in CECS and will engage the best researchers from across the university in a variety of disciplines, including science, mathematics and medicine. He will also provide leadership in crafting responsive graduate degree programs that serve the needs of the community and prepare graduate students for the top regional jobs.
He will take a leading role in integrating online hybrid and distance learning courses into the college's graduate curricula in order to meet students' needs and increase the college's visibility.
Raymer is co-director of the Bioinformatics Research Group in Kno.e.sis, the Ohio Center of Excellence in Knowledge-enabled Computing; professor in the Department of Computer Science and Engineering; faculty member of the Biomedical Sciences and Environmental Science Ph.D. programs; and co-founder and senior systems engineer for Forensic Bioinformatic Services, Inc.
He is also the principal coordinator of the undergraduate program in bioinformatics and co-author of Fundamental Concepts of Bioinformatics, the first undergraduate textbook in bioinformatics. Bioinformatics is an interdisciplinary field that develops and improves on methods for collecting and analyzing biological data.
Raymer recently received the 2013 Affiliate Societies Council of Dayton Award for Outstanding Professional Achievement in education. In addition, his work has been cited by Justice Samuel Alito in a ruling of the United States Supreme Court related to the use of DNA evidence in the courtroom.
He has a B.S. in computer science from Colorado State University and an M.S. and Ph.D. in computer science from Michigan State University.