Nathan Klingbeil, dean of the Wright State University College of Engineering and Computer Science, has been named the winner of the DaytonDefense Educational Foundation Lifetime Achievement Award.
The foundation provides financial investment to stimulate growth of the STEMM-educated workforce in the region.
The award will be presented Sept. 23 during the STEMM Charity Gala to raise money for Wright State students accepted into STEMM programs and for students in the STEMM program at Sinclair College continuing on to Wright State.
Klingbeil is actively involved in engineering education reform. He is the lead principal investigator for Wright State's National Model for Engineering Mathematics Education. Since its inception in 2004, the approach has had an overwhelming impact on student retention, motivation and success in engineering and has made the core engineering curriculum more accessible to an extremely broad range of incoming students.
Klingbeil arrived at Wright State as an assistant professor in 1999. Prior to his appointment as dean, he was named the Robert J. Kegerreis Distinguished Professor of Teaching, director of student retention and success, professor and associate dean for academic affairs.
He is a three-time recipient of the college's Excellence in Teaching Award and was named the 2005 Ohio Professor of the Year by the Carnegie Foundation for the Advancement of Teaching and Council for Advancement and Support of Education (CASE).
He and his fellow researchers have been funded numerous times by the National Science Foundation and other state and federal funding sources, and he has led externally funded research and education projects totaling over $7.1 million.
Klingbeil earned his bachelor's degree in mechanical engineering from the University of Dayton and his master's and Ph.D. degrees in mechanical engineering from Carnegie Mellon University.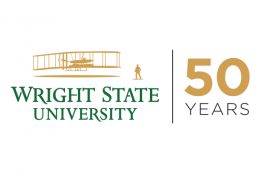 The DaytonDefense Educational Foundation makes strategic investments in scholastic support and other areas that have a sustaining payback to the defense industry and the community.
Wright State became an independent institution in 1967 and spent the next 50 years growing into an innovative leader in STEM education. In 2017, it celebrates its 50th anniversary as an independent public university, culminating with a special Homecoming celebration Sept. 29 through Oct. 1.