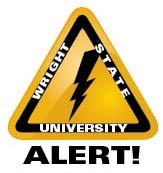 The Wright State community urges you to take care of yourself and others by taking extra precautions because of the extreme heat in the region and recent power outages.
The Greene County and Montgomery County Health Departments issued a Public Health Heat Warning and it continues through the weekend for areas that include the Wright State University Dayton and Lake campuses. This warning could continue for multiple days.
The heat index is expected to reach well over 100 degrees with temperatures close to or even over 100 as well.
Please take precautions to prevent heat-related illnesses for yourself and others. Public Health-Dayton and Montgomery County recommends that everyone pay particular attention to the following suggestions:
-Drink plenty of water and non-alcoholic fluids
-Decrease physical activity and stay in the shade as much as possible
-Use air-conditioning
-Wear loose and light-colored clothing
-Use a circulating fan
-Watch for signs of heat-related illnesses such as heat cramps, heat exhaustion, or heat stroke
Visit http://www.phdmc.org/news/item/public_health_heat_warning_declared for more information.