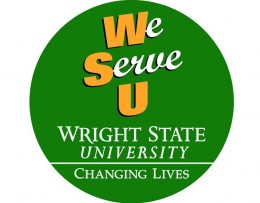 Wright State University faculty, staff and students in search of ways to give back to their community should consider visiting the Volunteer Fair on Friday, October 5, from 11 a.m. to 2 p.m. in the Student Union Atrium where 30 local nonprofit organizations will be connecting with volunteers.
Representatives from Blue Star Mothers, Project Read, Hannah's Treasure Chest and dozens more will be on hand to meet people from the Wright State community motivated to volunteer their time or talents.
"We thought this would be a good opportunity not only for the campus to find service opportunities but for the nonprofits to find some volunteers," said Hendricks.
Sponsored by We Serve U—a Wright state program for staff, faculty and students that provides community service opportunities throughout the year—the fair is the first of its kind at Wright State.
"It's going to be like the health and benefits fair we have at Wright State each year," said Joanie Hendricks, We Serve U co-chair. "You can go to whatever table you may like that might interest you, but there may be others that are not your cup of tea that you'll walk on by."
"We're just trying to get people involved with the community and we think this is a good way to reach out," said Hendricks. "This is a way to find a service opportunity that fits what you're comfortable doing"
Recently We Serve U concluded its first fall semester event by manning two hydration stations at the Air Force 5K. Over the summer, the group also collected school supplies for the Westwood PreK–8 school in Dayton.
We Serve U is planning a pair of projects for later in the fall semester including organizing a Thanksgiving dinner and other activities for students who can't make it home for the holiday, as well as an event for the Blue Star Mothers.
If you're interested We Serve U or other community service opportunities on campus, visit http://www.wright.edu/weserveu/ to learn more.