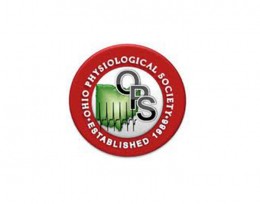 Wright State University's Boonshoft School of Medicine hosted the 27th annual meeting of the Ohio Physiological Society in October, bringing in more than 120 attendees from 14 Ohio universities.
Two poster sessions gave participants an opportunity to receive one of four $500 travel awards to attend the Experimental Biology 2013 conference in Boston, Mass. Joseph Santin, a graduate student in the College of Science and Math, received a travel award, and Adam Deardorff, a medical student in the Boonshoft School of Medicine, received an honorable mention. Four undergraduate students at Wright State also received accolades for their outstanding poster presentations.
James W. Hicks from the University of California at Irvine opened the convention, which included research discussion, poster presentations and awards for outstanding research.
"The convention was an opportunity for energetic exchange of ideas between the leading physiologists and research-oriented students from across the state," said Lynn Hartzler, assistant professor of biological sciences at Wright State and president of the Ohio Physiological Society.
The convention began with presentations by new researchers in Ohio and was promptly followed by what Hartzler called a trainee data blitz. During the blitz, students and postdoctoral fellows quickly introduced research they had conducted and highlighted data figures to support their findings.