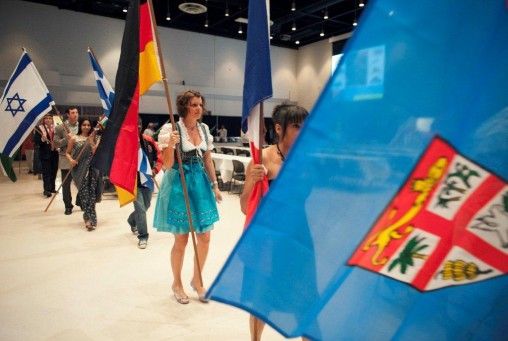 Dance performances, fashion shows and cuisine with a global flavor will highlight the 29th International Friendship Affair at Wright State University.
The April 13 event, to be held at the Student Union, will feature performances, displays and food from India, France, Germany, Lebanon, Saudi Arabia and other countries.
"The Friendship Affair is a way to showcase our international students and celebrate the way they bring their cultures and traditions to our university," said Michelle Streeter-Ferrari, director of the University Center for International Education (UCIE).
Wright State currently has the most international students it has ever had. A total of 1,128 students from more than 70 countries around the world call themselves Raiders.
The International Friendship Affair is also a way for UCIE to celebrate its ongoing relationship with Dayton's diverse international community. In addition to Wright State staff, faculty and students, members of the Dayton community are invited to the free event, which runs from 1 to 5 p.m.
"The International Friendship Affair is a wonderful opportunity for anyone in the area to connect with the rich and diverse international community we have at Wright State and to experience the university in a very unique and interesting way," said Stephen Foster, associate vice president for international affairs.
The festival consists of an international flag parade, a fashion show, performances, cuisine, cultural booths and an award ceremony.
The UCIE acts as a catalyst for international education at Wright State, creating an environment in which students, faculty and staff have increased opportunities to gain international understanding through learning and experience.
The center coordinates efforts to recruit, admit and advise international students and scholars and assist them in achieving academic and personal success; promotes cross-cultural understanding by developing and coordinating exchange and study abroad opportunities; and collaborates with academic departments and global partners to internationalize the curriculum and seek external funding to support new international initiatives.