The backpack. Part of a college student's uniform. Carrying textbooks, notebooks, laptops and even ramen noodles, it hangs on the same shoulders often burdened with frustrations, fears and pain.
On Monday, April 7, backpacks representing the 1,100 U.S. college students who take their own lives each year will grace the grounds of Wright State University.
"Some of them are personal donations from families who have lost their daughters and sons to suicide," said co-organizer Jeevitha Kempegowda, president of the Wright State chapter of Active Minds, a student organization open to all students.
The traveling display of backpacks is part of "Send Silence Packing." It is an event organized by the university chapter of Active Minds, whose mission is to eradicate the stigma associated with mental illness on college campuses.
The backpacks—which come in a rainbow of colors and some of which include personal messages—will blanket the university.
"We're going to literally lay them out on campus," said co-organizer Jason Weisman. "It's very powerful visually."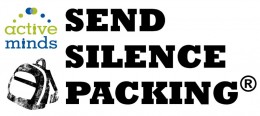 Active Minds was founded by Alison Malmon when she was a junior at the University of Pennsylvania following the suicide of her older brother, Brian.
Brian, also a college student, had experienced depression and psychosis for three years but had concealed his symptoms from everyone around him. On March 24, 2000, he ended his life.
Weisman, a student in the School of Professional Psychology, said college students have often grown up wrapped in the security blanket of their parents and friends and then are thrust onto a college campus far from home, where they face the pressure of academics, a job and trying to make new friends.
"That starts to create the perfect storm," Weisman said. "As straws are continually added to that person's back, it just becomes unbearable."
The backpack event, which runs from 9 a.m. to 4 p.m., is designed to put a face on suicide and raise awareness about it.
"This could be you, this could be your friends, this could be your girlfriend or your boyfriend," said Weisman. "We're not doing this because we want to scare folks. But it would be wrong for us to have something so relevant and so dangerous go unnoticed and unchecked."
The Wright State chapter of Active Minds was founded in 2012 and has previously sponsored events to raise awareness about eating disorders and the effects of stress. With about 15 active members, the group also has its own radio show—on Wednesdays from noon to 1 p.m. on WWSU 106.9 FM.
The Wright State chapter incorporates diversity and multiculturism into its events, addressing the stigma in different cultures attached to mental illness.
Wright State is the only university in Ohio hosting "Send Silence Packing" this year. Chapters of Active Minds from other schools have been invited to take part.
Kempegowda, also a student in the School of Professional Psychology, said she hopes the event encourages students to speak more openly about mental health issues and seek help if they need it.
"There is all of this help," she said. "We want to help."