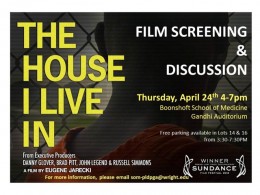 Student groups from the Wright State University Boonshoft School of Medicine will host a screening and discussion of the film The House I Live In on Thursday, April 24, 4 to 7 p.m., in the Gandhi Auditorium in White Hall.
The event is free and open to the public. Parking is available in Lots 14 and 16 from 3:30 to 7:30 p.m. free of charge and without a permit.
The 108-minute film is presented by several Boonshoft School of Medicine student organizations, including the Physician Leadership Development Program, Internal Medicine Interest Group, American Medical Association and Boonshoft for Healthcare Improvement.
"We wanted to shed light on an important public health issue," said Jasmin Scott, a third-year medical student who is co-president of the Physician Leadership Development Program Executive Council. "Drug abuse heavily impacts our community. It's very important for health professionals to be aware of this so that proper action can be taken and appropriate interventions can be made."
The film addresses the War on Drugs, which began more than 40 years ago and has cost more than $1 trillion. More than 45 million people have been arrested, making the United States the world's largest jailer.
Written and directed by Eugene Jarecki, the film received the Grand Jury Prize: Documentary at the 2012 Sundance Film Festival. Jarecki interviewed people nationwide whose families had been pulled into a vicious cycle of drugs and the criminal justice system. He spoke with dealers, users and their family members in addition to police, wardens, judges and medical experts.
To learn more about the film, view the trailer on YouTube.