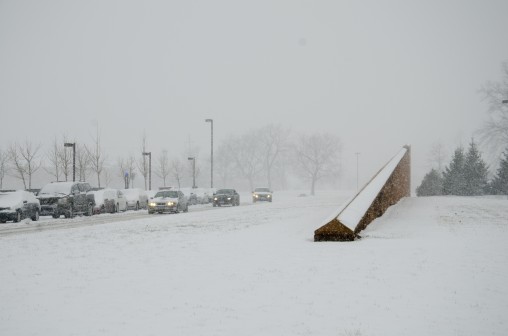 Winter weather came early this year, and it's here to stay whether we like it or not. The November blast of arctic temperatures and heavy snow gave us all a wake-up call to make final winter weather preparations.
Our community benefits a great deal from the tunnels once we commute to campus, but when and how we drive to campus can often be our biggest challenge this season.  The safest choice is to avoid traveling until the threat has passed. If you don't have that option, or if you simply choose to travel despite the winter weather, listen to forecasts, road reports, and storm warnings. Allow extra time for your trip.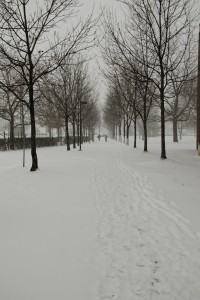 "When winter weather arrives, you need to decide whether it is safe for you to drive —consider your winter driving skills, the road conditions in your area and not just road conditions at the university," said Kimberly Nagel, director of emergency management. "Your safety is much more important than being on time to work or making a class. Communicate with your supervisor or professor if your attendance will be impacted by the weather."
If you get stranded in a snowstorm, the best plan is to stay with your vehicle. In that event, you'll want to have a winter emergency kit with you. Pack your trunk with basic essentials that can help you stay warm or even dig out.
Some other good tips to keep in mind include being mindful that four-wheel drive doesn't help you any more when driving on ice. Drivers of four-wheel drive vehicles can suffer from "snowver-confidence" in winter weather conditions.
A few links to weather related sites are provided below.
Traffic and Road Conditions: http://www.ohgo.com/dashboard/dayton
Winter Preparedness Tips: http://www.ready.gov/winter-weather
Familiarize yourself with these terms to help identify a winter storm hazard:
Freezing rain: Rain that freezes when it hits the ground, creating a coating of ice on roads, walkways, trees and power lines.
Sleet: Rain that turns to ice pellets before reaching the ground. Sleet also causes moisture on roads to freeze and become slippery.
Winter storm watch: A winter storm is possible in your area. Tune in to NOAA Weather Radio, commerical radio, or television for more information.
Winter storm warning: A winter storm warning is occurring or will soon occur i your area.
Blizzard warning: Sustained winds or frequent gusts to 35 miles per hour or greater and considerable amounts of falling or blowing snow (reducing visibility to less than a quarter mile) are expected to prevail for a period of three hours or longer.
Frost/freeze warning: Below freezing temperatures are expected.
Use the resources below to be informed and prepared for winter weather:
Sign up for Wright State alerts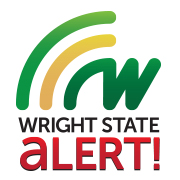 Wright State Alert is Wright State University's emergency notification system. Via email, text messaging and social media, it will alert you about closures and delays at the Dayton and Lake campuses. Be sure to add a phone number for voice and text messages.
Visit http://www.wright.edu/emergency-management/managing-your-wsu-alert-account to manage your account. Follow Wright State Alert on Facebook and Twitter at http://www.facebook.com/WrightStateAlert and https://twitter.com/WrightStAlert.
Review Wright State University's cancellation and closure information
Visit Wright State's cancellation and closure website http://www.wright.edu/emergency-management/cancellations-and-closures to find information that is specific to your campus or college.

Gather weather preparedness tips
Visit Wright State's emergency management website www.wright.edu/emergency-management to learn about winter weather terminology, items to include in your vehicle emergency kit, snow emergency classifications and winter driving tips.