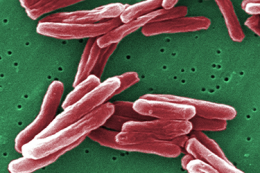 Tuberculosis ranks along with HIV as a leading cause of death worldwide, according to the World Health Organization. In 2014, more than 9.6 million people developed tuberculosis, and 1.5 million people died from the disease. Tuberculosis is caused by a bacterium that is spread when a person with the disease coughs, sneezes, speaks or sings. People nearby may breathe in these bacterium and become infected.
To address the threat of tuberculosis, a Public Health Grand Rounds event, "Tuberculosis: A Worldwide Killer," will be held on Thursday, Nov. 19, 3 to 4:30 p.m., in the Herman N. Menapace Center for Health Education at Greene Memorial Hospital in Xenia, 1141 N. Monroe Drive.
The speakers include Steven D. Burdette, M.D., professor of internal medicine and director of the Infectious Disease Fellowship Program at the Wright State University Boonshoft School of Medicine, and Amy Schmitt, R.N., public health nurse and tuberculosis program manager at Greene County Public Health. They will address several topics, including new diagnostic methods and management challenges of the disease, which is estimated to be at least 6,000 years old.
The event is free and open to the public, including health professionals, educators, students and interested community members. No registration is required. Free parking is available. For more information, contact Cyneca Reed at (937) 258-5555 or cyneca.reed@wright.edu.
Public Health Grand Rounds is presented by the Master of Public Health Program of the Center for Global Health at the Wright State Boonshoft School of Medicine to inform health professionals about public health topics related to prevention and workforce development.