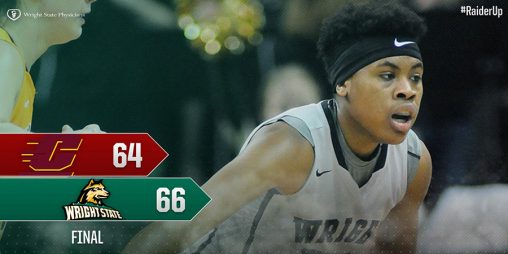 Down three with 2:14 to play, the Wright State women's basketball team scored the final five points of the game to pull out a thrilling 66-64 decision over Central Michigan in the first round of the Women's NIT March 16 at the Wright State Nutter Center.
The victory was the third postseason win for the Raiders in program history and its first in three tries in the WNIT. Previously, Wright State defeated Buffalo in the 2011 WBI and SIU Edwardsville in the 2012 WBI.
Wright State (25-8) will face Michigan, a 67-60 winner over Kent State on Thursday, in a rematch of last year's WNIT first round on Saturday, March 18, at 2 p.m. at the Crisler Center in Ann Arbor, Michigan. View the tournament bracket >>
Central Michigan scored the initial three points of the game and led for the first four minutes until Chelsea Welch connected on a three-point to put the Raiders up 9-7 with 5:15 remaining in the opening period.
After each team exchanged a basket, Wright State closed the quarter with a 9-2 run, capped off by a layup and jumper from Symone Simmons in the final minute, to go up 20-11 after one stanza.
Wright State extended the lead to 11 twice in the early stages of the second quarter, the final time being 27-16 on an Emily Vogelpohl three at the 8:25 mark, but Central Michigan answered with an 8-0 run to close to within three.
It was still a three-point game until Welch converted two free throws just before halftime to make it 33-28 at the break.
The Chippewas regained the advantage three different times during the third period, only to see the Raiders tally the final four points, including a Welch buzzer-beater, to hold a slim 49-48 edge.
Wright State led 59-54 on a reverse layup by Simmons with 6:42 to play before Central Michigan went on a 10-2 run to go up 64-61 with 2:14 remaining.
Two Welch foul shots at the 1:40 mark started the final 5-0 burst and a driving layup by Mackenzie Taylor put the Raiders up for a good at 65-64 at the 49.7-second mark.
After CMU came away empty on its next possession, Vogelpohl hit one of two free throws with 26.7 seconds left to make it 66-64.
The Chippewas had a chance to tie or win, but a shot from Tinara Moore to send the game into overtime rimmed out as time expired.
Welch led WSU with 21 points while Simmons had 20 points and Lexi Smith 10.