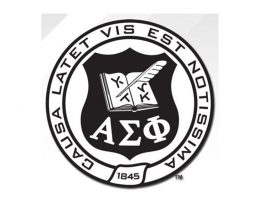 Wright State University's fraternity Alpha Sigma Phi received a 2017 community service award from the Greene County Prosecutor's Office.
Each year the Prosecutor's Office honors a law enforcement officer, volunteer and a community service agency or representative for their outstanding commitment and service to victims of crime.
Alpha Sigma Phi was recognized April 3 in the Berry Room of the Wright State Nutter Center during a training session on combating human trafficking.
Matt Boaz, chief diversity officer at Wright State, was also recognized during the training session.
The Alpha Sigma Phi chapter was honored for its efforts to raise awareness of and combat sexual assault on and off campus. Since forming in 2015, the fraternity has partnered with and raised funds for the Rape Abuse Incest National Network (RAINN).
"Our chapter recognizes the stigma that follows fraternity life, and we are taking a stand against it. We are here to break the status quo," said Austin Rains, Alpha Sigma Phi president in 2016 and a psychology major.
Gina Keucher, assistant director of fraternity and sorority life, said Alpha Sigma Phi members have become leaders on campus.
"This is an organization that hit the ground running at Wright State and embodies their values and doesn't just talk the talk," she said.
During National Sexual Assault Awareness Week in 2015 and 2016, the fraternity worked with Wright State's Office of Equity and Inclusion and the Women's Center to sponsor campus events. Fraternity members gathered 2,000 signatures from Wright State community members for the "It's On Us" pledge, promising to be an active bystander and help change the culture around campus sexual assault.
"The amount of sexual assault that goes unrecognized or untried is very disheartening, and as men of integrity, we want to do all we can to raise awareness for everyone to be an active bystander," Rains said. "Wright State is an excellent community and we cannot wait to continue our partnerships with the communities we serve."