Excerpt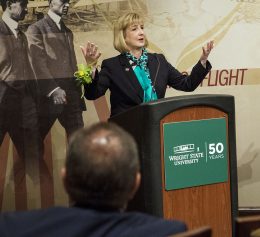 Wright State University's new president has laid out an agenda for her first three weeks in office, pledging to meet with campus and community leaders and partners.
As part of that, a welcome reception for Cheryl Schrader will take place at 3 p.m. Thursday in the student union atrium. It's the same location Schrader was announced as the seventh president of WSU.
"I want to embrace the culture and understand the people," Schrader said in a statement. "That's what I'm very much looking forward to."
The Dayton Daily News has requested an interview with Schrader upon her arrival and official start as WSU's president.
In her first week, Schrader plans to meet with members of the campus community, according to WSU.
Read the entire story at daytondailynews.com