Excerpt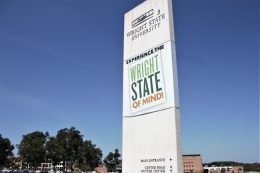 Wright State University has been edging toward state fiscal watch the last few years but may be able to narrowly avoid it if a budget plan in place continues as expected.
The university's budget calls for around a $6 million surplus this year as the school attempts to rebuild its reserve fund that was drained from years of overspending. WSU slashed around $30.8 million from its fiscal year 2018 budget in June.
The financial health of public colleges is measured by something called a "Senate Bill 6 score," after a piece of legislation passed in 1997. The law requires the Ohio Department of Higher education to rate schools on a scale of 0 to 5 every year.
The formula takes into account measures such as each school's revenue, debt and reserves. If a school falls below 1.75 on this scale for two years, it lands on fiscal watch, putting it under tight state monitoring and requiring a state-approved plan to balance its books.
Wright State projects its score will be a .8 this year, meaning one more year below a 1.75 would put the school on fiscal watch. But, WSU financial officials on Friday said that if the university saves $6 million this year as directed by its budget, then the school's next score would be slightly above a 1.75.
"We are basically operating at razor thin levels with no margin for errors going forward," said Sean Fitzpatrick, WSU trustee and chairman of the board's finance committee.
Last year, Wright State had a Senate Bill 6 score of 2.1, down from 2.4 in 2015, according to state records.
Central State University is the only four-year university that has been placed on state fiscal watch. The school was removed from fiscal watch in April after its Senate Bill 6 score increased from a 1 in 2014 to a 2.3 in 2015 and then a 2.8 in 2016.
Read the entire story at daytondailynews.com