Excerpt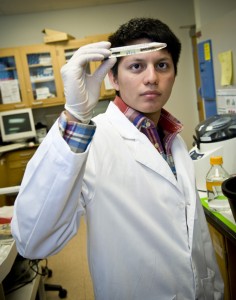 Wright State University has been awarded a five-year $1-million grant by the National Science Foundation.
The grant, which runs through February 2023, will fund scholarships, research and other activities for the Applying Scientific Knowledge program, according to the university.
Of the $1 million grant, $630,000 will be designated for scholarships of $5,000 annually for 14 students each year for three years, amounting to 42 scholarships total. The fund will also help pay for five students to have a paid summer research experience.
"The idea is to increase retention, academic success and work/career advancement with the notion of providing students who have financial need with scholarships to perform in the sciences," said Jason Deibel, chairman of the department of physics.
Deibel directed work to win the grant, according to Wright State. The university had been working to try to land the grant for the last three years, according to WSU.
The Applying Scientific Knowledge program at WSU was started in the fall of 2016 with around 10 students enrolled. Wright State anticipates the scholarships funded by the grant will open the program up to students who previously may not have considered it.
View the original post at daytondailynews.com