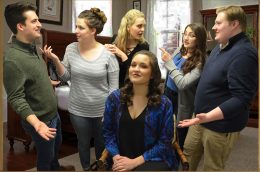 Wright State University Theatre is wrapping up its theatrical season with the dark comedy "The Memory of Water," running April 20-22 in the Herbst Theatre.
"An insane comedy about tragic misfits," — that's what critics called this knockabout family drama, adding that the show is a "delicate treatise on human nature."
"The Memory of Water" runs for one weekend only, with performances scheduled for 8 p.m. Friday, April 20 and Saturday, April 21, and 2 p.m. Saturday, April 21 and Sunday, April 22. Tickets are $12 for adults, $10 for seniors and $5 for students.