Excerpt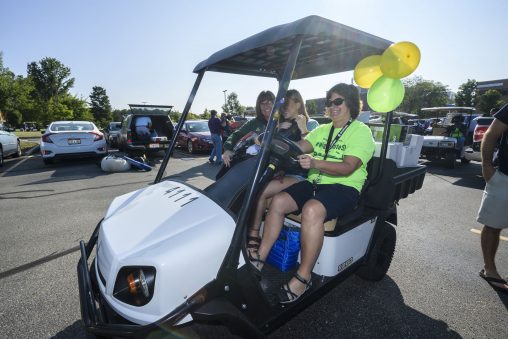 Students will begin moving into residence halls and apartments at Wright State University Thursday as classes prepare to start on Monday.
About 2,300 students will move in through this weekend, a number down a little bit from previous years, said Dan Bertsos, director of residence life and housing. Fewer students living on campus this fall is the result of a decline in enrollment, Bertsos said.
The university is expected to enroll fewer than 17,000 total students for the first time since 2007.
"It's been great to see despite the other circumstances on campus," Bertsos said about student interest in living at WSU
Lower enrollment is one of a number of problems WSU is trying to overcome as it grapples with ongoing budget issues that forced trustees to slash more than $30 million in 2017 and another $10 million in June.
This weekend marks the 27th year of move-in days at Wright State as students will set up in 29 residence halls and apartments, according to the university.
About 500 students, faculty and staff volunteers will be on hand to help transport students' belongings with about 110 golf carts, Bertsos said.
Wright State has coordinated its move-in days to avoid increased traffic on Colonel Glenn Highway. Parking locations for students and their families will vary depending on where they're moving. More information is available on the school's website.
Though the university's move-in operations have remained largely the same for several years, the use of golf carts makes Wright State unique, Bertsos said. In fact, Bertsos has had administrators from several other universities inquire about the idea, he said.
During move-in, Wright State's leaders — including president Cheryl Schrader and new provost Susan Edwards — will be out greeting students and parents. Both Schrader's and Edwards' husbands will be driving golf carts for people moving in.
"Every campus has something that makes them special, this is one of those things for Wright State," Bertsos said. "Nobody else does move-in like this."
View the original post at daytondailynews.com