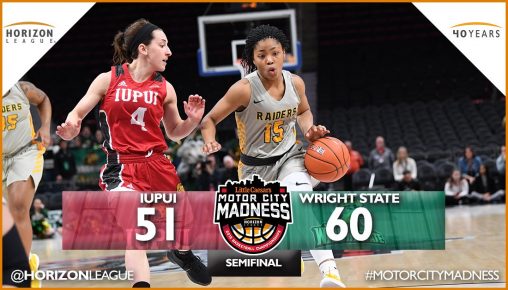 The Wright State women's basketball team held off a late rally to beat IUPUI 60–51 in the semifinals of the Horizon League tournament March 11 at Little Caesars Arena in Detroit.
No. 1 Raiders advanced to the conference finals and will play the winner of No. 2 Green Bay and No. 3 Youngstown State on Tuesday, March 12, at noon in the Little Caesars Arena. The game will air on ESPNU. Students, faculty and staff are invited to watch the game in the Rec Commons and in the Hangar in Allyn Hall.
This is the second year in a row that the Raiders will play in the Horizon League finals.
This year's team has now tied the women's basketball program's all-time record of 26 wins in a season, which was set in 2014.
Mackenzie Taylor led all players with 15 points, 10 of which came in the second half. Angel Baker added 14 points and five rebounds. Emily Vogelpohl scored eight of her 10 points in the second half while also adding six rebounds. Symone Simmons led all players with eight rebounds and Tyler Frierson tallied seven rebounds.