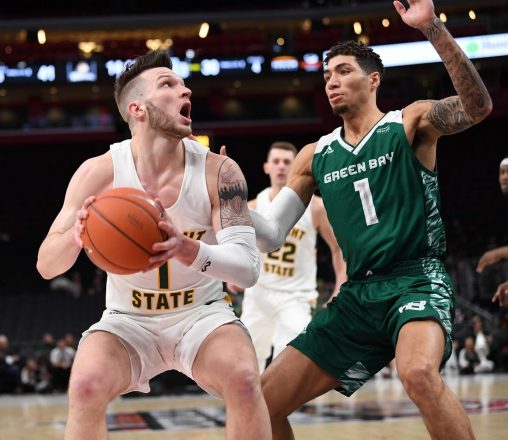 The Wright State men's basketball team will make its second consecutive appearance in the Little Caesars Horizon League Tournament Championship Tuesday, March 12, after defeating Green Bay 66-54 in the semifinals.
No. 1 Raiders will face No. 2 Northern Kentucky at Little Caesars Arena in Detroit at 7 p.m. The game will air on ESPN.
Students, faculty and staff are invited to watch the game in the Rec Commons and in the Hangar in Allyn Hall and at Milano's Beavercreek.
The Raiders improved to 21-12 overall with their win over Green Bay on March 11. Wright State was led by Bill Wampler, who scored 18 points while Loudon Love added 10 points and 12 rebounds, his 12th double-double of the season. Freshman Malachi Smith had nine points and six boards with Cole Gentry also pitching in nine points. Alan Vest finished with eight rebounds.
Wright State shot 36 percent from the field and outrebounded the Phoenix 40-34, while forcing 16 turnovers. The Raiders led by 20 points early in the second half and held the advantage for more than 37 minutes of the game.
Read the full game recap at wsuraiders.com.