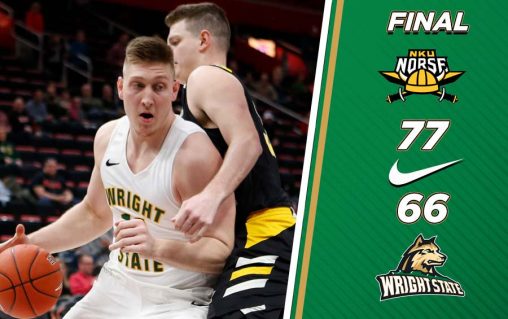 The Wright State men's basketball team reached the championship game of the Horizon League tournament for the second consecutive year but came away with a 77–66 loss to Northern Kentucky March 12 at Little Caesars Arena in Detroit.
After finishing first in the Horizon League during the regular season, the Raiders will receive a first-ever bid to the National Invitation Tournament.
Three Raiders led the way against the Norse as Bill Wampler scored 16 points with 15 points each from Mark Hughes and Cole Gentry. Loudon Love ended with nine points, six rebounds and four blocks while Alan Vest grabbed seven boards. Wright State shot 38 percent from the field, and the Norse shot 51 percent overall, including 59 percent in the first half as they led by as much as 18 points.  NKU outrebounded the Raiders 38-35 and hit 12 three pointers.
Wampler was named to the All-Tournament Team.