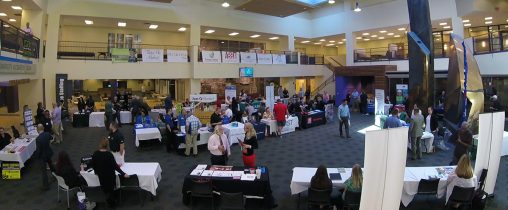 Hundreds of military veterans, service organizations and employers will be on hand for the Vets Moving Forward event at Wright State University's Student Union on Wednesday, May 22, from 3 to 7 p.m.
For the fourth year in a row, Wright State will host the free event that connects veterans with community resources.
"Hosting this event speaks to Wright State's commitment to supporting the veterans and current service members in our community," said Seth Gordon, director of the Veteran and Military Center at Wright State. "There are a lot of moving parts behind the scenes and we are delighted to contribute what we can."
Vets Moving Forward includes a resource fair for organizations to share information on their mission with veterans. The job fair area enables veterans to talk with representatives of companies about available positions.
In addition, the Dayton VA Medical Center will hold an enrollment fair and help veterans sign up for VA services. Veterans also can get assistance with disability claims, advice on wills and obtain a Veteran ID card.
"We have all realized that collaboration is the key to providing the most holistic service to our veterans," Gordon added.
The event is not only for veterans, but also their family members, as well as veterans service organizations in the region. About 100 veterans service organizations are expected to participate to connect and network with veterans.
The Dayton Regional Transit Authority and Greene CATS Public Transit will provide free bus rides for veterans to and from Wright State on May 22. Proof of military service is required upon boarding.
Veterans from any service branch, their families and those who support veterans may register online.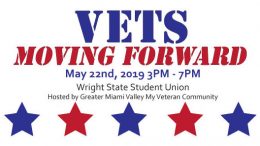 Vets Moving Forward is sponsored by the Greater Miami Valley MyVeteran Community, which connects veterans and veteran service organizations across the region. Comprised of numerous state and local representatives, business and education leaders, as well as veteran service organizations, the organization strives to create a collective positive impact.
The U.S. Department of Veterans Affairs selected the Miami Valley as one of 50 communities across the nation to create a MyVeteran Community Engagement Board. The regional board was organized in 2015 by Cassie Barlow, chief operating officer of the Southwestern Ohio Council for Higher Education and former commander of Wright-Patterson Air Force Base, and retired Air Force Lt. Col. John McCance.
The MyVeteran Communities model enables veteran advocates, service providers, veterans and stakeholders to have a voice in identifying their community goals and work to resolve issues at the local level to improve service delivery for veterans, service members and their families.
For more information, visit www.vetsmovingforward.org.