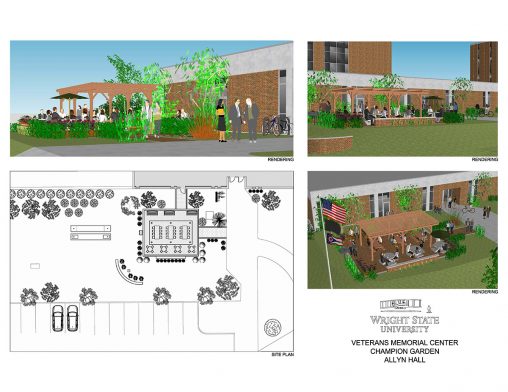 The George B. Quatman Foundation, Fifth Third Bank Trustee, has provided $50,000 toward the construction of a new garden on Wright State University's campus that will honor military veterans and those individuals who serve and support them. The grant will be utilized to construct a 1,000-square-foot paver patio outside Allyn Hall with a pergola, benches, tables and landscaping.
The Veteran and Military Center (VMC) Champion Garden will celebrate all who have served in the United States Armed Forces and those who champion military veterans. Members of the community are invited to honor special veterans in their lives by purchasing an inscribed patio paver or an inscribed dog tag that will hang from the pergola.
"The VMC Champion Garden is an outdoor extension of the Veteran and Military Center in terms of a creating a gathering space that signals to veterans and military-connected students that they belong on campus," said Seth Gordon, director of the Veteran and Military Center. "The garden will be open to all members of campus and will tie in the Veterans Voices Project by linking honored names to an online repository featuring narrative stories about the individual."
The stories behind the names in the VMC Champion Garden will be captured through a variety of narratives, including digital text, audio recordings and videos. As students and visitors enjoy the peace and tranquility of the garden, they will also be able to interact with the names that surround them by reading or listening to their stories.
"Fifth Third values veterans and the service they have provided for our country," said Doug Compton, Dayton city executive for Fifth Third Bank. "The Quatman Foundation gift will be a way to honor these servicemen and women, while also creating a welcoming space for them and all who support them."
In 2015, the Jacob G. Schmidlapp Trusts, Fifth Third Bank Trustee, provided a $100,000 grant to support the Veteran and Military Center at Wright State. Opened in 2014 in Allyn Hall, the VMC provides a safe space for veteran and military-connected students as they successfully transition to civilian life. Serving 80 to 100 students per day, the VMC provides full academic support services along with free printing, a computer lab, private study suites, and a kitchenette with complimentary coffee.
To learn more about the VMC Champion Garden, visit wright.edu/VMCgarden.