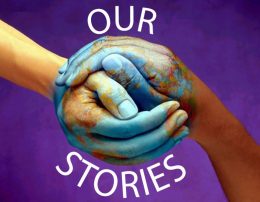 The stories they've told include one about a kindergarten teacher facing the challenge of the coronavirus pandemic, twin brothers who combine a love for cars and photography, and a man who has turned thrift shopping into a business.
The storytellers are all Wright State University students in the Advanced News Writing course taught by Ray Marcano, instructor of communication, who have had their stories published in the Dayton Daily News.
The students were assigned to find and write articles to highlight people and their endeavors in the Dayton community, an assignment that resulted in a collection called "Our Stories."
Marcano said the young journalists should be proud of their success.
"Writing is hard, and writing professional-quality stories that make their way into a Pulitzer Prize-winning newspaper is even harder," said Marcano. "'Our Stories' showcases these journalists' tremendous talent."
Ken Paxson, who teaches the Advanced News Writing course with Marcano, said spring semester presented unexpected new challenges because of distance learning due to the coronavirus.
"I could not have been more impressed with the students' perseverance and dedication to getting the job done," said Paxson, an adjunct faculty member in the Department of Communication. "They didn't miss a beat, overcame obstacles and created something special in the 'Our Stories' project. It's an accomplishment the entire Wright State community should be proud of."
Michael Foley was the first student in the class to be published in the Daily News, with his story on a man and his passion for serving the community appearing April 16. Since then, the students have achieved more publishing successes.
Marissa Couch's story about Courtney Robinson, a Wright State alumna who teaches kindergarten at Primrose School of Beavercreek, was published April 30. After the school was closed to help prevent the spread of COVID-19, Robinson created videos to keep her class updated and answer questions from parents.
"It almost feels like the school year is being robbed from them and me," said Robinson, who earned her degree in early childhood education from Wright State in 2017. "As stressed as they make me sometimes, I still want to see them every day and love on them."
A story by Andrew Kaney was published May 7 about Jared Wise, a local entrepreneur and owner of an online clothing boutique called ShopWise. By purchasing vintage and name-brand pieces at prices below retail value, he has been able to turn a profit by using resale websites like Poshmark, eBay and Grailed.
"My parents have taken me to flea markets and thrift shops since I was young," Wise said. "It wasn't until the last three years that I started taking my collection seriously."
Another story by Kaney published May 14 is about Jake and Luke Turner, twin brothers who have married auto work with photography and videography. As Luke built a 1995 BMW M3, Jake was beside him with his camera every step of the way.
Luke began posting his brother's images and videos of his BMW on Instagram, gaining over 10,000 followers. Then the brothers began making their own book bags, duffle bags and fanny packs by hand that they plan to market under their Obsess Apparel brand.
The brothers also plan to highlight and promote fellow artists and creators with whom they collaborate through the use of interviews and promo videos shot by Jake. This section of the brand will also be home for their own media.
"I always feel like I get obsessed with my work," Luke said. "Most people think of being obsessed as a bad thing, but I think it can be positive and make you work harder."