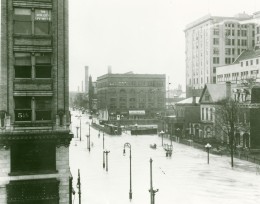 The Great Dayton Flood of 1913 was a catastrophic, yet defining, event in Dayton's history. Out of this tragedy grew a community spirit of generosity, strength and accomplishment in preventing another flood of such devastating proportion.
The community commemorates the centennial of this event to reconnect with the past and understand its lasting legacy on our history and physical landscape.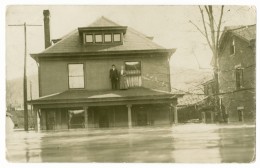 The Wright State University Libraries' Special Collections & Archives created a free traveling exhibit consisting of captivating photographs and primary sources to tell the story of the flood on three, free-standing fabric panels each measuring 33.5″ wide and 84″ tall. An in-depth brochure accompanies the exhibit in addition to a website offering an image gallery, http://www.libraries.wright.edu/special/exhibits/1913_flood/.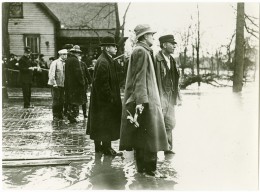 The exhibit debuted at the Jan. 24 performance of the Wright State University Theatre's 1913: The Great Dayton Flood, which runs through Feb. 10.
The Archives' website lists where and when the exhibit will be displayed, and provides a request form to borrow the exhibit. Any organization or institution is welcome to borrow the exhibit for a two-week period. Requests can be made by completing the online form or calling (937) 775-2092.
For additional information, please see the FAQ link on the 1913 Flood website, or email the Archives at exhibits@www.libraries.wright.edu.
This exhibit is made possible through the generosity of a Wright State University Friends of the Libraries' Staff Grant, and the Dayton office of Battelle Memorial Institute. Due to their support, the 1913 Dayton Flood Traveling Exhibit is available at no cost, with the exception of shipping if needed.