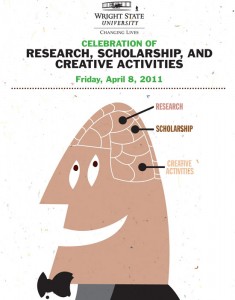 "Someday My Prince Will Come."
It sounds like a children's book.
Or maybe it's a reference to an old song from a Disney movie?
No.
Actually, it was a research project displayed at last year's first annual Celebration of Research, Scholarship and Creative Activities event at Wright State University.
The research, conducted by an English major, examined the effects fairy tales have on children. One of the best examples of humanities research being done on campus, it proved the event isn't just about math and science.
"It's really a unique event because you might come across a table with research in biochemistry, and the next one could be ballet," said Dominique Belanger, assistant coordinator for STEMM activities and coordinator of the event.
This year's lineup promised the same kind of project diversity.
The event was Friday, April 8, from 9 a.m. to 4 p.m. at the Student Union Apollo Room.
"Whether it's in the lab, with faculty or in the arts, students are doing notable and interesting research all over campus," said Belanger. "This event was for undergraduate and graduate students to showcase their hard work as researchers," she added.
Students had their choice to present their projects orally or with a poster display. Students who opted for the poster route printed out their hypotheses, results and conclusions and were ready for curious observers to strike up a conversation.
"Each student stands by their poster ready to take questions. It is kind of set up like a science fair but without the project," said Belanger.
Belanger said the students who chose to give the oral presentations also benefited greatly from getting the chance to talk in front of people. The event is often the student's first chance to tell his or her story.
One of the memorable projects from last year was about stories, or fairy tales.
This year, a student who will soon earn his Master's of Humanities brought soap.
Stephen Rumbaugh began making vegan soap at home when he was laid off from his graphic design job.
"I've always liked things a little bit different, unique. Growing up I used to hate the grocery store soap in our house," said Rumbaugh.
Determined to earn a new degree and start a business he believed in, Rumbaugh created Society Bodycare. Scents like Black Forest, Cocktail and Urban Mint were on display at the Research Celebration event Friday.
Of course there were plenty of traditional research projects from the math and science disciplines again this year, too.
One undergraduate research project of note targeted a hot topic: healthy living. The research showed data from variability and body fat measurements.
The College of Nursing and Health again had heavy participation this year. Seven students had poster displays, up from five last year.
"It is a wonderful way to showcase the talent and dedication of our students," said Perla Ilagan, Ph.D., assistant professor for the College of Nursing and Health.
One of her students also has a project related to physical health. Ilagan said her student showed research about body mass index and how it may correlate with school systems that have enforced recess time.
It's too early to tell if these projects will be picked up in the professional world, but Ilagan notes, it wouldn't be the first time if it happened.
"Some of these proposals, once they have left us, the research is going now at the students place of work," said Ilagan.